Reducing those emissions could have a significant impact on curbing climate change, but there's a catch: Emissions from international flights can't be attributed to a single country — meaning they can't be regulated in the same way as countries, such as through mechanisms including the Paris Agreement.
Instead, aviation emissions are dealt with under the International Civil Aviation Organization (ICAO), a United Nations body. In 2013, countries under ICAO agreed to cap aviation carbon emissions at 2020 levels, delivering carbon-neutral growth from 2020 through 2035.
To meet these climate targets, the industry will have to look to carbon offsets.
By the numbers: forests and flights
Halting tropical deforestation and allowing forests and other carbon-rich ecosystems to regrow can provide at least 30 percent or more of the emissions reductions and carbon sequestration needed to limit warming to below 2° Celsius and also provide important adaptation benefits.
One in four people depend directly on forests for their livelihoods.
As many as 120 prescription drugs worldwide derive directly from plants found in forests.
Deforestation accounts for 11 percent of human-caused greenhouse gas emissions.
Carbon accountability through CORSIA
Airlines can use credits from one of the six greenhouse gas programs approved as immediately eligible under CORSIA.
In October 2016, participating countries in the ICAO established the Carbon Offsetting and Reduction Scheme for International Aviation (CORSIA), a market-based measure designed to help the aviation industry achieve its climate change targets.
CORSIA is broken up into three-year phases spanning 15 years. Starting in January 2021, airlines from countries that signed up for the voluntary phase of CORSIA (2021-2023) are required to reduce emissions from international flights that exceed their 2020 emission levels. With each subsequent three-year phase of CORSIA, additional countries (and their airlines) will be required to participate as they meet the minimum threshold for international emissions.
As part of the U.N. process, technical bodies under the ICAO are defining which sectors and activities will be eligible for airlines to purchase under CORSIA. To guide their decisions, ICAO technical bodies have identified a set of draft Emissions Unit Criteria against which all potential offset activities will be judged. The criteria themselves do not specifically include or exclude particular types of offsets, but they will serve as the basis for greenhouse gas programs to apply for approval to be verified emission reductions providers to the international aviation sector. In March 2020, ICAO approved its first set of greenhouse gas programs that are now deemed eligible for airlines to purchase in meeting their climate goals, several of which include nature-based solutions. This means that the international civil aviation industry has created the first global market to accept nature-based credits.
Projected aviation emissions (present to 2040)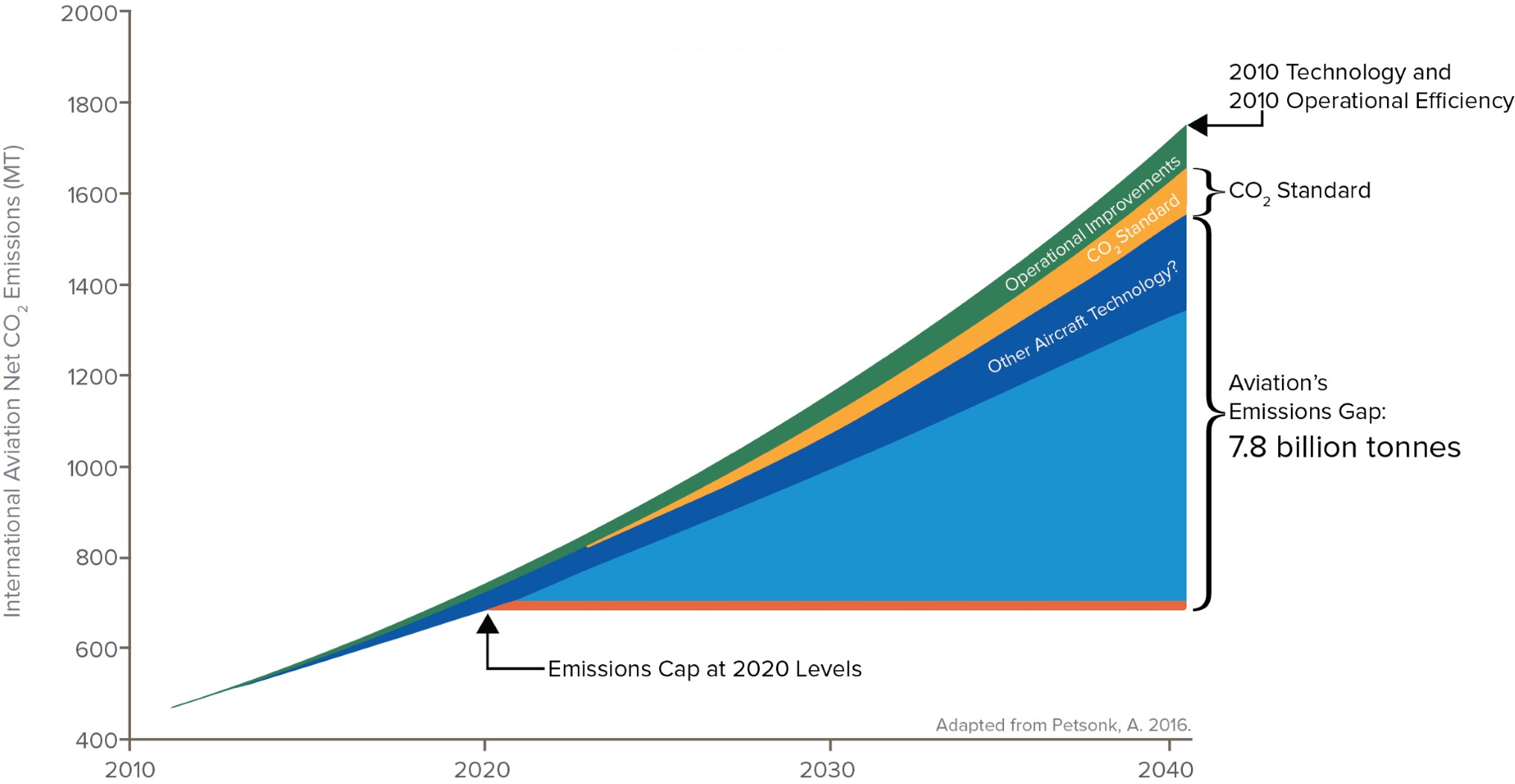 The top of the upward sloping curve shows how international aviation's emissions are slated to grow in coming years. The horizontal red line toward the bottom, labeled "Emissions Cap at 2020 levels," shows the ICAO Assembly's agreed goal of "carbon-neutral growth from 2020." The area below the top of the curve and above the horizontal red line at 2020 is the total amount of emissions that international aviation must address to meet this goal. Reductions from operational improvements are shown in green and expected emissions reductions from ICAO's new CO2 standard requiring the increased use of biofuels are shown in orange. The remaining "emissions gap" of 7.8 billion metric tons is shown in blue, between the orange wedge and the horizontal red "Emissions Cap at 2020 levels" line.

Source: Linking Flight and Forests: The Essential Role of Forests in Supporting Global Aviation's Response to Climate Change. Graph adapted from Petsonk, A. 2016.
REDD+: Carbon offsets that benefit forests, communities
REDD+ can provide airlines with high-quality emission reductions to meet their climate goals while simultaneously protecting biodiversity, supporting local communities and ensuring that vital ecosystem functions remain intact. REDD+ can support developing countries in making a transition to low-emissions rural development and meeting their sustainable development goals.
One option to reduce emissions from deforestation — and provide significant social and environmental benefits — is REDD+ (Reducing Emissions from Deforestation and forest Degradation). Developed under the U.N. Framework Convention on Climate Change, REDD+ creates an incentive for protecting, conserving and restoring forest ecosystems in developing countries by valuing their carbon sequestration, storage and other services. With more than a decade of implementation experience, REDD+ activities are not only reliable strategies for reducing emissions — they have the track record to prove they fulfill the CORSIA Emissions Unit Criteria.
In the March 2020 outcome, ICAO agreed on a pathway for REDD+ credits to be included in CORSIA later this year. These two REDD+ methodologies, the World Bank's Forest Carbon Partnership Facility (FCPF) and Verified Carbon Standard's Jurisdictional and Nested REDD+ (JNR) methodology are not immediately eligible, but will be approved once they fulfil specific conditions outlined by ICAO. Additionally, all REDD+ activities must be nested under a national or subnational REDD+ program and verified against one of the to-be-approved offset standards to be eligible. With the expected inclusion of REDD+ later this year, it will have a dual benefit for the aviation industry and the environment: It will unlock significant private-sector demand and needed investment in REDD+ activities that benefit communities and developing countries.
Experts estimate that nearly 80 percent of international aviation emissions could be covered by the market-based measure, CORSIA. This participation in carbon reduction efforts could generate demand for an estimated 2.5-3 billion metric tons of carbon credits over CORSIA'S 15-year span. If REDD+ credits meet 30 percent of this demand at US$ 5 per metric ton of carbon dioxide, international aviation could generate up to US$ 5 billion of investments in REDD+ over this period.
&copy Mad Dog Douglas
How one airline is already supporting forest conservation
As part of United Airlines' carbon reduction portfolio, the company has been investing in forest conservation through the Eco-Skies CarbonChoice program. United offers customers the opportunity to support Conservation International's Alto Mayo Forest Carbon initiative in Peru. This community-based project establishes conservation agreements with local farmers receive services such as technical training in return for not cutting down the forest. Through this project, more than 5.5 million metric tons of carbon dioxide have stayed out of the atmosphere — the equivalent of taking more than 1 million cars off of the road for a year.
Sign up for the latest conservation news — delivered straight to your inbox.
Thank you! We'll be in touch.