Around the world, indigenous peoples and local communities manage and maintain nearly 40% of all intact landscapes.
Who are indigenous peoples, and who are local communities?
INDIGENOUS PEOPLE are people who have customary social and political institutions, a historical continuity and attachment to specific lands and who self-identify as such a group. If you would like more information, please see the U.N. Declaration on the Rights of Indigenous Peoples.
LOCAL COMMUNITIES depend directly on their ecosystems for their livelihoods and as a result have developed traditional knowledge about their area.
While these two groups may have much in common, there are some key distinctions between them, including how their rights are recognized in national and international policies.
Indigenous peoples and local communities are often stewards of biodiversity on their ancestral lands and waters, using their deep traditional knowledge to manage and maintain these landscapes.
However, global deforestation, overfishing and climate change — combined with communities' lack of access to policy makers and decision-making processes — are undermining their ability to protect their territories, and with it the benefits that these lands provide to them and to the rest of humanity.
Conservation International is working to turn this around. We're supporting indigenous peoples and local communities in their efforts to defend their rights, connecting them to funding, technology and decision-making bodies, and training.
Communities then use their new and existing knowledge to secure their natural resources and participate in decisions that affect them, ensuring that protecting nature also protects their livelihoods.
What we do
We've been working with indigenous peoples and local communities for more than 30 years, developing expertise, credibility and trust with our partners. In 1996, Conservation International was one of the first organizations to develop a policy for partnering with indigenous peoples, and we have been working since then to support the full and effective participation of all communities in conservation.
How we do it
Innovative financing
Conservation International aims to put funding for climate change action and natural resource management directly in the hands of indigenous peoples and local communities.
Brazil's Kayapó: Stewards of the Forest

© Cristina Mittermeier

Direct access for climate change funding for IPLCs

© CI/photo by Katrin Olson
Incorporating indigenous perspectives
Recognizing the value of incorporating the decisions, traditional knowledge, and natural resource management expertise of indigenous peoples and local communities in conservation, Conservation International works to incorporate their perspectives into our work.
Indigenous Leaders Conservation Fellowship

© Lucas Bustamante

Free, Prior and Informed Consent

© Cristina Mittermeier
Informing policy from the ground up
Conservation International brings the expertise and experience of indigenous peoples and local communities to national and international policy arenas.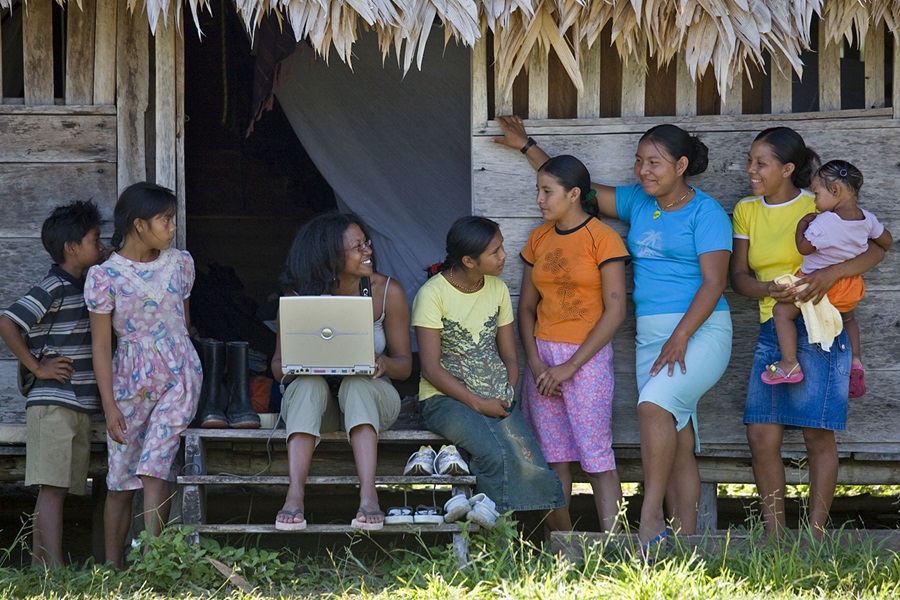 &copy Piotr Naskrecki
Since 2010, Conservation International and partners have worked with the International Indigenous Peoples Forum on Climate Change to conduct workshops with indigenous representatives on key UNFCCC issues. These meetings enable indigenous peoples to develop engagement strategies to address their rights in the various discussions of the negotiations.
News from our blog
Indigenous Peoples
For insight into how Indigenous peoples are fighting for their lands during lockdown — while simultaneously addressing deep-rooted racial inequality — Conservation News tapped two Indigenous leaders at Conservation International.
Donate
Give to support our work with communities — and Earth-changing projects all around the world.
Happy World Wildlife Day
Around the world, wildlife is under threat from poachers, climate change and habitat destruction. Be one of 52 people who acts today to protect wildlife and restore their habitats.