Vulnerable communities around the world directly depend on healthy freshwater ecosystems for food, drinking water, protection from damaging floods and more.
However, international development organizations and funding agencies have traditionally treated the management of water for nature and the management of water for people as distinct and separate agendas on the ground.
Conservation International (CI) wants to change that. CI recognizes that water, poverty and environment are interconnected, and that the long-term sustainability of water, sanitation and hygiene (WASH) services depends on the health of the entire basin. This vision is based on the fundamental understanding that the health of communities and ecosystems are inextricably linked. However, the long-term protection of those ecosystems is only possible if local people are empowered to be the guardians of these resources.
Our role
CI has more than 30 years of practical experience helping communities in developing countries demonstrate that human societies can live in harmony with nature. During this time, we have seen WASH projects play a meaningful role in improving the lives of people while also protecting freshwater-dependent species. Our goal is to increase awareness of the connection between community health and freshwater ecosystems at all levels to address challenges across sectors in a holistic way.
We believe through linking WASH and freshwater conservation activities, we can help meet basic needs for access to safe, clean water, remove barriers to stewardship and in-turn empower communities with knowledge and practices to safeguard the health of both people and ecosystems. This is the basic premise of our WASH in Watersheds approach.
Developing tools
In December 2013, CI and other conservation and WASH partners released a publication, "Freshwater Conservation and WASH Integration Guidelines: A Framework for Implementation in sub-Saharan Africa." Funded by the United States Agency for International Development's (USAID) Bureau for Africa and the Africa Biodiversity Collaborative Group (ABCG), the report provides guidance to health, development and conservation professionals in sub-Saharan Africa on how to plan, coordinate, develop and achieve mutually-supported WASH and freshwater conservation project outcomes.
Building the case
In the upper Mzimvubu catchment — source of South Africa's last free flowing river and where CI's One Health program has been piloting the WASH in Watershed model — we intend to expand this approach throughout the entire catchment and document the conservation impacts. Through monitoring successes and challenges, evaluating conservation outcomes, and documenting lessons learned, we hope to provide substantive evidence of the benefits of this approach that will serve to further its adoption in other catchments in South Africa and beyond.
Scaling the model
CI's commitment to advancing this model means we are working to develop and expand existing resources that serve as evidence for the approach. Through leveraging our vast network of partners, many of whom we have collaborated with in the past and whose expertise we have drawn on for this approach, we will continue to advocate for and seek opportunities to scale the model through expanding on-the-ground projects and collaboration.
© Jessica Scranton Photography
By the numbers
2.4 billion
The number of people without access to improved sanitation facilities, according to the UN.
The WASH in Watersheds approach contends that when certain basic needs are met and their links to improved conservation outcomes are made clear, people become stronger advocates for conservation.
In South Africa's uMzimvubu Catchment, the "One Health" initiative integrates water, sanitation, and hygiene activities with livestock improvement and conservation programs. Through this approach, CSA, Conservation International's local affiliate, and partners are improving the health of people, animals and ecosystems.
Conservation South Africa's "One Health" Initiative
Conservation South Africa (CSA) is testing the WASH in Watersheds framework in the upper reaches of the Mzimvubu Catchment to improve water resources sustainability and resilience to threats, including climate change. Weak land and water stewardship have impacted key water points throughout the catchment, which are experiencing degradation and have high bacterial counts from poorly managed upstream sanitation infrastructure. The outcomes of this have included deterioration of the landscape and downstream outbreaks of illness. CSA's response combines activities related to watershed restoration, protecting natural springs, clearing water-thirsty, invasive plants, educating local stakeholders about good health and sanitation practices, and training local communities to improve livestock and land management practices.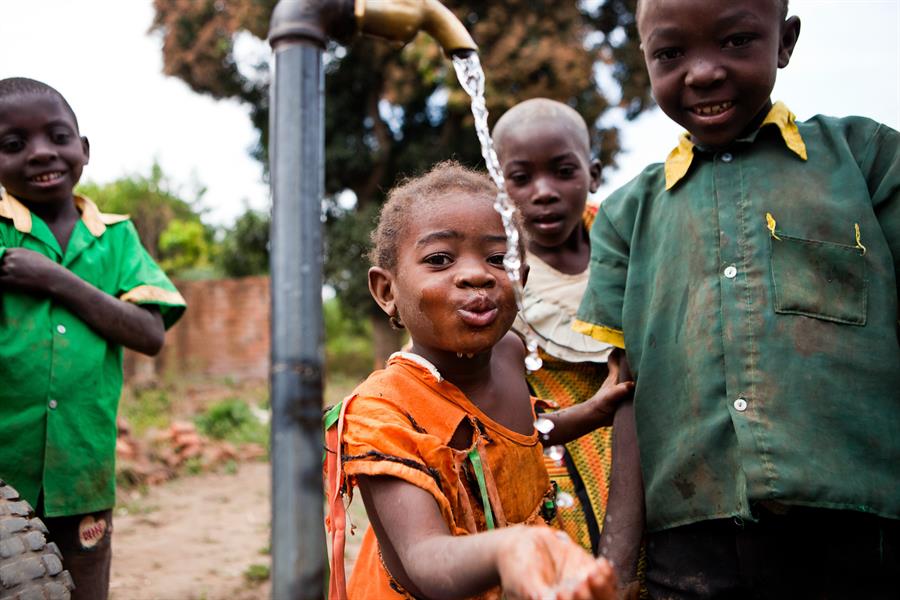 &copy Benjamin Drummond
Sharing knowledge and building connections
The WASH-Conservation Working Group is a coalition of development and conservation organizations committed to advancing an integrated agenda that supports sustainable development and the conservation of freshwater resources. CI is a member and the current working group head for the 12 organizations seeking to advance these commitments through technical programming, advocacy, awareness-raising, and maximizing of investments through collaboration on efforts to protect watersheds while reaching communities in-need with WASH services.
CI also leads the Africa Biodiversity Collaborative Group (ABCG) task focused on advancing integrated freshwater conservation and WASH in sub-Saharan Africa. This work included growing the evidence base of the effectiveness of this kind of programming and tools for implementation such as guidelines, a monitoring and evaluation framework and a collaboration with IRC to produce an Advocacy Strategy Workshop Facilitator's Guide.