NOTE: This initiative has ended, and as of 2021, this webpage is no longer being updated regularly.
We in Africa are determined to show leadership. Let us indeed lead by example, by using our abundant natural resources for the health, education and sustainable future of current and next generations.

His Excellency, Lieutenant General Seretse Khama Ian Khama, President of Botswana
In 2012, President Ian Khama of Botswana co-hosted with Conservation International the Summit for Sustainability in Africa. The Summit was attended by heads of state and ministers from 10 African nations, corporate leaders and other thought leaders, and together they set the path to tackle the urgent issue of growing the economy of their respective countries while also ensuring the protection of their vital natural resources like forests and fresh water.
The result: a sea change in the way these forward-thinking African nations are choosing to develop.
Signatories to the Gaborone Declaration
The Gaborone Declaration for Sustainability in Africa is a commitment to a new model of development that, for the first time, takes into account the role of natural capital in development by bringing the value of natural resources from the periphery to the center of all economic decision-making.
Our role
In December 2014, the government of Botswana asked Conservation International to serve as Secretariat for the Gaborone Declaration. As Secretariat of the Gaborone Declaration, Conservation International is responsible for:
Leading outreach and communications to countries and partners
Defining a framework for implementation
Raising funds
Supporting the development of projects and monitoring progress
Promoting successes and encouraging further efforts to incorporate the value of nature in economic and social development decisions
Policy and learning
The Gaborone Declaration is a platform for exchange and learning as well as for dialogue toward improved and robust policy frameworks that support sustainable development.
Technical assistance
The Gaborone Declaration serves as a clearinghouse of technical information and facilitates partnerships to help implement sustainable development initiatives.
Financial mobilization
The Gaborone Declaration catalyzes financial resources to support the transition to a green economy and sustainable development.
By the numbers
10 signatory countries
Visionary leaders from 10 African countries have committed to moving the value of nature to the center of their development strategies. The signatory countries are Botswana, Gabon, Ghana, Kenya, Liberia, Mozambique, Namibia, Rwanda, South Africa and Tanzania. Membership is still open to other interested countries.
Timeline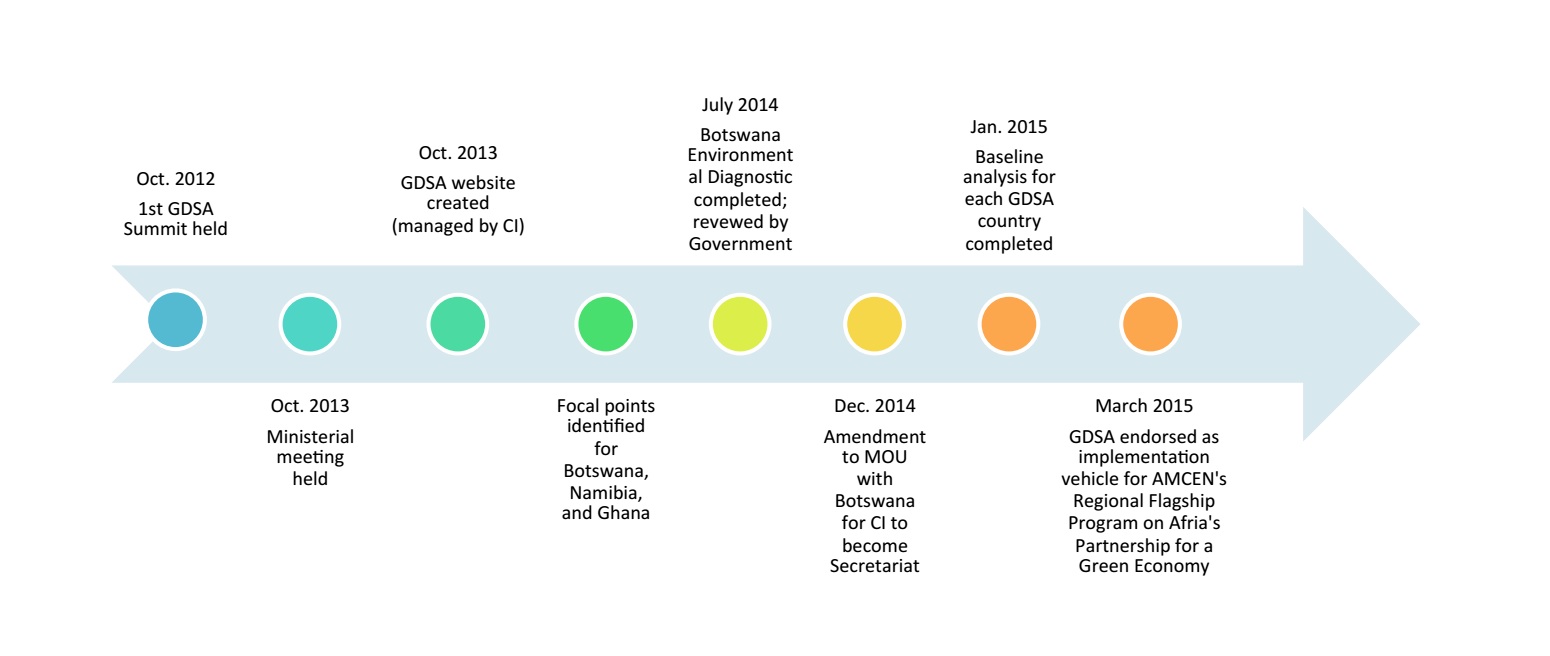 Commitments
The signatories to the Gaborone Declaration have committed to taking action for Africa's future:
Countries must integrate the value of nature into their national policies and programs, recognizing that nature is needed for economic growth and sustainability.
Countries must reduce poverty by transitioning agriculture, extractive industries, fisheries and other economic uses of nature to practices that promote sustainable employment, food security, sustainable energy and the protection of nature, including protected areas.
Countries must build the knowledge, capacity and policy networks to promote leadership and a new model in the field of sustainable development to increase momentum for positive change.
© Rod Mast
Analyzing the economic impact of a country's natural capital
In collaboration with the government of Botswana, Conservation International recently completed the Botswana Sustainable Environmental Diagnostic, which brings together information about how to better integrate conservation into national planning—including estimating the economic value of natural resources. It also examines the trade-offs for some of Botswana's priority economic sectors such as mining, energy, agriculture and tourism and offers recommendations for Botswana to continue on a sustainable environmental pathway.
© CI/John Martin
Transforming the consumer goods sector
Conservation South Africa (CSA) is working with the Consumer Goods Council of South Africa to establish cross-cutting environmental standards for its 12,000 member companies that represent 40% of the economy and 25% of the country's employment. As part of the initiative, CSA has developed an Environmental Sustainability Compliance Programme for the consumer goods sector, which provides a locally relevant but globally benchmarked standard for environmental compliance across 11 performance areas.
© Will Turner
Ensuring environmental sustainability in Rwanda
Conservation International was recently awarded $400,000 to work with the Government of Rwanda to address the drivers of environmental degradation and improve the well-being of the country's residents. As a signatory to the Gaborone Declaration, Rwanda was interested in developing a program similar to Socio Bosque in Ecuador, which offers financial incentives to local communities and individual landowners to conserve their forest and natural vegetation. Socio Bosque has grown into a national program that benefits forests, watersheds — and local people. In Rwanda, Conservation International will work directly with Rwanda's Payment for Ecosystem Services Task Force to lay the groundwork for a national program.