​Media Resources for


Nature Is Speaking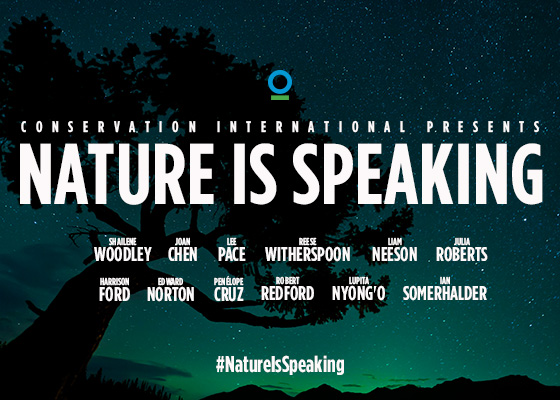 &copy Conservation International
Nature doesn't need people. People need nature. That's the message of our provocative, celebrity-studded campaign "Nature Is Speaking." Our aim is to raise awareness that people need nature in order to survive. Our goal is simple: It's time to change the conversation about nature to focus on what we all have in common: Our shared humanity.
To embed a film, click on the link below the video to go to the film's YouTube page. Click the "share" link located underneath the video player near the red "subscribe" button and choose "embed." Copy the string of code there and paste it into your website's html or video service.​
The Nature Is Speaking films
The campaign features a series of short films voiced by some of the biggest names in Hollywood including Penélope Cruz, Harrison Ford, Edward Norton, Robert Redford, Julia Roberts, and Ian Somerhalder. In the series, Nature reveals serious misgivings about the way humans are treating the Earth from the viewpoint of a cast of characters — from Mother Nature to The Ocean and The Soil. Watch these films, and then link to them via your online posts to help spark the conversation.
Experts
At Conservation International, we are proud to have some of the leading minds in natural and social science, policy, finance and business working together to design solutions that will improve people's lives through the care and protection of nature. To learn more about these topics, please contact the media team below.
Media contacts
To schedule an interview with one of our experts, or to learn more about our campaign, please contact the media team using the information below.
About Conservation International
Conservation International's diverse team of experts knows that knowledge is power, particularly when it comes to managing our natural world in a smart, sustainable way. Find out more about our organization and the transformational work being carried out worldwide. Explore where we work on our interactive map.
Protect Nature
Just announced: Every dollar 3X MATCHED, up to $16,500, to support sustainable development that helps communities thrive economically while protecting nature