Wildlife Insights is the first tool of its kind, using artificial intelligence and the power of big data to provide scientists an unequaled view into the habits and habitats of wildlife, data that is critical for crafting smart conservation policies.
It starts with animal "selfies."
Used by researchers in forests and natural areas around the world, motion-detector cameras — known as camera traps — snap thousands of photos a day of animals rarely seen by human eyes. As the largest camera-trap database in the world, Wildlife Insights has the potential to transform wildlife conservation by providing reliable, frequent and up-to-date information on myriad species that are largely invisible to science and conservation practitioners.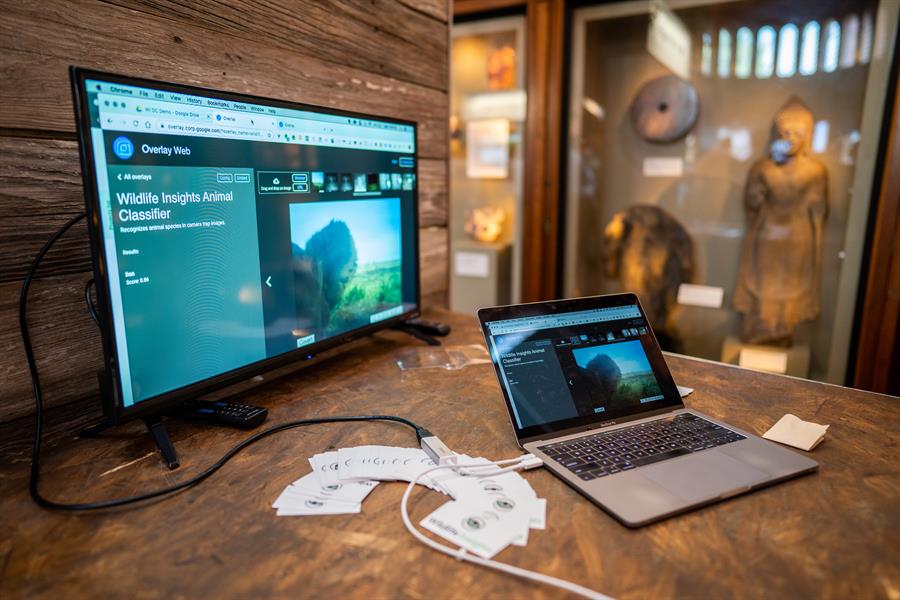 &copy Conservation International
Wildlife Insights users — that includes the public, from citizen scientists to teachers to children — can explore millions of camera-trap images from across the globe collected by leading wildlife conservation organizations, museums, scientific institutions and private citizens. Users have the ability to filter images by species, country and year and download data instantly.
Artificial intelligence technology developed by Google also helps camera-trap researchers to identify species in a fraction of a second, dramatically speeding up the pace at which this information can be processed and analyzed, making data available for decision-makers in near real-time.

© Jeremy Holden
The data challenge
The more camera traps there are, the more species selfies there are to sort through — but this ability to collect data is only as useful as humans' ability to sift through it. Historically, the process has been painstaking and time-consuming, requiring someone to manually review the photos, which can number in the thousands.
Compounding the issue: Camera traps don't discriminate — they automatically snap candid shots of any creature that comes into view, resulting in sometimes substantial amounts of "by-catch" data that is rarely shared, depriving other scientists of the opportunity to see or analyze it.
How Wildlife Insights is different
TEAM
Wildlife Insights is the next evolutionary phase of the Tropical Ecology Assessment and Monitoring (TEAM) Network, a partnership formerly led by Conservation International that placed camera traps throughout tropical forests. TEAM will continue to generate data that will now live on the Wildlife Insights platform.
Thanks to the combination of advanced technology, data sharing, interinstitutional partnerships and science-based analytics, analysis that used to take months now takes minutes with Wildlife Insights.
The platform offers a crucial incentive for persuading scientists to share their photos: unrivaled processing power. Working with Google, the platform has developed machine learning algorithms to automatically identify and tag species — even repeat images of the same animal, in some cases — far faster than any human can.
Any Wildlife Insight products and other add-ons will be shared, as well as the camera-trap photos themselves, under Creative Commons licenses, with an exception for data being used in not-yet-published research.
Additionally, the exact locations of illegally hunted and endangered species will be obscured to prevent poachers from using the data for illicit purposes.

&copy Benjamin Drummond
Managers of protected areas or anti-poaching programs can gauge the health of specific species, while governments can use wildlife data to inform policies and businesses can confirm that they are responsibly managing the impacts of their activities on local environments.
Organizations working to restore forests to mitigate climate change can ensure that wildlife — a crucial part of a healthy ecosystem — is also coming back.
Indigenous communities that depend directly on wildlife — and the "ecosystem services" that those species provide, such as pest control and pollination — can monitor animals in a new way.
"Eyes In The Forest" documentary (18:53)
Our partners
Wildlife Insights is a partnership between Conservation International, Google, the Smithsonian's National Zoo and Conservation Biology Institute, Wildlife Conservation Society, the North Carolina Museum of Natural Sciences, World Wide Fund for Nature, the Zoological Society of London and Yale University's Map of Life.
Contact
Jorge Ahumada
Senior Wildlife Conservation Scientist and Wildlife Insights Executive Director, Conservation International
jahumada@conservation.org
Nicole Flores
Wildlife Insights Program Manager, Conservation International
nflores@conservation.org