The wealth of a nation or a business is more than just what its people can produce.
The value of "natural capital" — the sources of the services that nature provides, including fresh water, flood control and forest products — is just as important, and often overlooked.
Natural capital supports human and financial capital: When climate change, overpopulation or pollution threatens nature, societies and economies are threatened, too.​ Natural capital has long been considered "free," which causes the benefits that nature provides to be taken for granted and used at a rate that the Earth cannot replenish.
Conservation International is helping governments and businesses quantify our reliance and impact on natural capital to ensure it is managed well for future generations.
Poverty will only be made history when nature enters economic calculations in the same way that buildings, machines and roads do.

Partha Dasgupta
Why valuing is important
Knowing the economic value of nature's benefits can make the contribution of nature to livelihoods and economies visible, enabling smarter decisions that account for nature in our economic systems and ensuring that it can continue to sustain us.
Benefits of valuing
Both the public and the private sectors stand to gain from valuing the natural capital they depend on. Valuing natural capital enables governments to account for nature's role in the economy and human well-being. For businesses, it enables efficiency, sustainability, and managing risks in their supply chains.
How to value natural capital
For the public sector, Conservation International has developed an accounting system that can help governments calculate exactly how nature supports their economies. For the private sector, we have helped create a groundbreaking guide for businesses to understand how nature fits into their balance sheets.
Ecosystem Values and Accounting
Natural capital accounting helps policymakers understand the dependence of economic development on natural resources, both for supplying materials and services as well as for absorbing waste and pollution. Conservation International's Ecosystem Values and Accounting (EVA) system helps place a price tag on an ecosystem's "goods."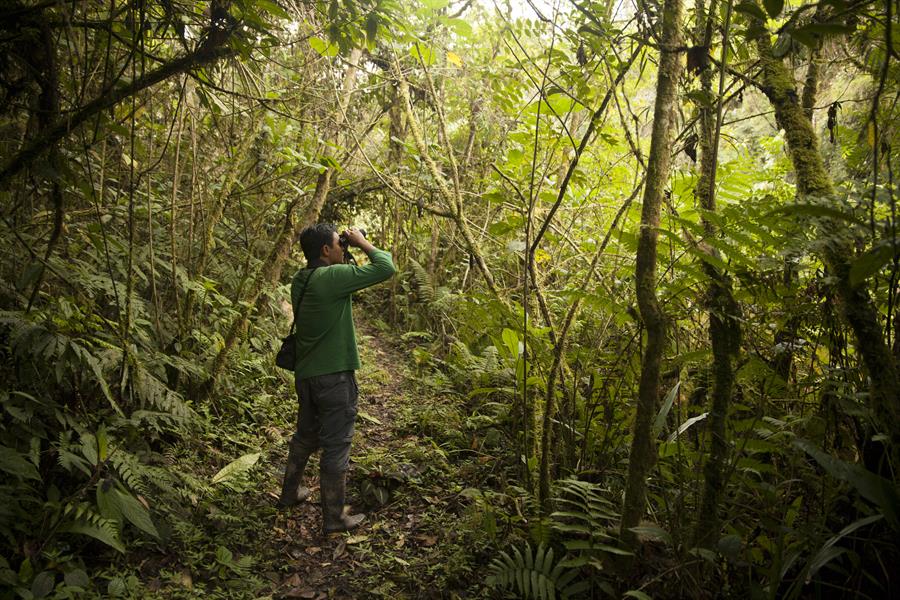 &copy Adrián Portugal
How it works
EVA provides a framework to quantify a region's individual resources and how each resource flows, or works to provide services, within a community or country. To determine the monetary worth of fresh water, for example, Conservation International's EVA analysts add up the end values of the crops the water irrigates, the manufactured products that use it, the energy its flow generates through hydroelectric dams, and how it supports local households. Aggregating this information gives a more complete picture of a country's water wealth.
Where it's working
In the San Martín region of Peru, an EVA pilot project calculated the value of some environmental goods — including timber, firewood, water and others — to the region's economy, conservatively, to be US$ 58 million.
Natural Capital Protocol
Conservation International helped develop the Natural Capital Protocol, which provides a standardized framework for businesses to identify, measure and value their direct and indirect impacts and dependencies on natural capital, from the sourcing of raw materials to more efficient use of water. View the Protocol on the Natural Capital Coalition's website »
&copy Robin Moore/iLCP
How it works
The Protocol can generate credible and actionable information to help businesses measure and value their impacts and dependencies on natural capital, enabling them to integrate nature into their operations. The Protocol can be used by any business, in any sector and in any geography, to make smarter decisions.
Where it's working
Launched in July 2016, the Protocol was developed with the support of more than 50 companies including Dow, Coca-Cola, Hugo Boss, Nestle, Roche and Shell. The Protocol is the latest example of our long history of working with companies to minimize their environmental footprints.
© jbdodane/jbdodane.com
The Gaborone Declaration for Sustainability in Africa is an African-led initiative of countries committed to a new model of development that brings the value of natural resources to the center of all economic decision-making, and takes into account the vital role natural capital plays in promoting sustainable development.
EVA in Liberia
Conservation International's EVA team, in collaboration with the government of Liberia, is gathering data with plans to apply what it has learned about ecosystem accounting at the national level. The goal: to determine and quantify the value that nature provides Liberia and inform the West African nation's policy and development planning.
Still confused about natural capital? This video can help
The World Business Council on Sustainable Development explains why businesses need to account for their natural capital.
Additional resources
Value staying up to date?
Be the first to hear about exciting work around the world.
Thanks for joining the Conservation International community!
Happy World Wildlife Day
Around the world, wildlife is under threat from poachers, climate change and habitat destruction. Be one of 52 people who acts today to protect wildlife and restore their habitats.