The ocean is the origin and the engine of all life on this planet — and it is under threat.
The challenge
Beset by habitat destruction, overfishing and pollution, the ocean is losing the ability to provide the benefits that humans have come to rely on: food, livelihoods, climate regulation. All of this is happening in the face of a rapidly changing climate and acidification of seawater, which is reducing the ability of the ocean to absorb carbon and to regulate global temperatures and local weather patterns. This isn't sustainable.
The vision
Conservation International envisions healthy oceans benefiting all life on Earth in perpetuity. Conservation International is building the tools, partnerships and programs to address the pressures on the ocean — and the negative impacts on species, ecosystems and ultimately, on people's lives. Our long-term goal is to safeguard the world's essential ocean and coastal biodiversity and most productive ecosystems in order to maximize the long-term ecological, social and economic benefits for people and nature.
Three out of every seven people in the world depend on seafood as their main source of protein.
About 44 percent of the world's population lives within 150 kilometers (93 miles) of the ocean.
Some US$ 2.5 trillion per year of economic value is produced by the ocean.
Solutions
Conservation International applies a "whole ocean" approach by designing solutions that address issues in the context of the entire system so that multiple benefits can be achieved and unintended negative consequences can be avoided. We balance the many ways people interact with nature, including food production, economic development, community involvement and traditional knowledge sharing.
Partnerships
This approach engages partners across all levels — from individual fishers to coastal communities to national governments — integrates science with traditional approaches, and acknowledges the connection between ecosystems and economics.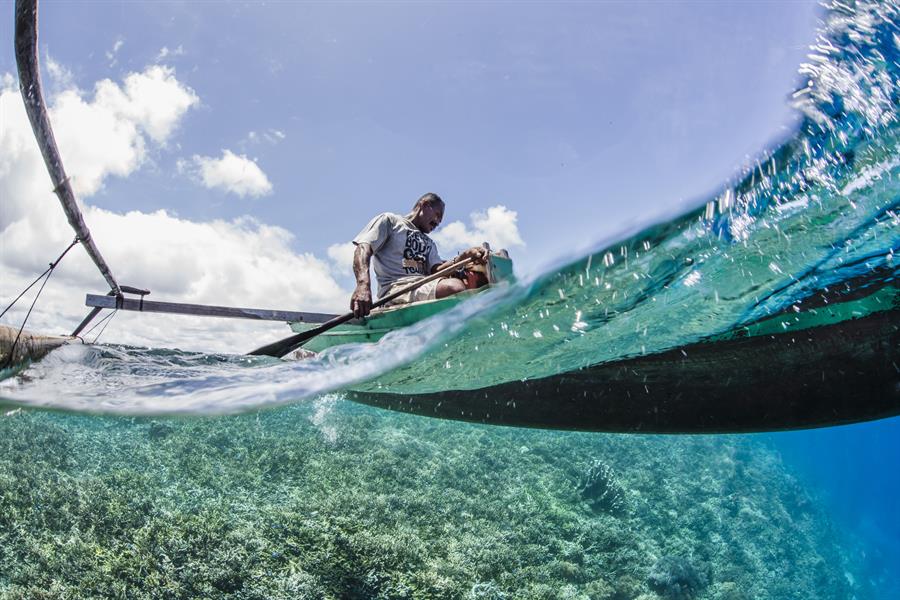 &copy Shawn Heinrichs
Safeguarding the ocean
With an extensive network of ocean programs around the world, Conservation International supports the creation and management of ocean places that harbor globally exceptional natural resources and are critically important for people's well-being.
Through Conservation International's Seascapes program, governments, businesses, communities and other stakeholders work together to conserve the diversity and abundance of marine life and promote human well-being. Conservation International has directly supported the creation of 232 million hectares (573 million acres) of protected areas, where activities such as tourism, development and fishing are managed to ensure sustainability.
In the Pacific, we're advancing the Pacific Oceanscape, a commitment by 23 countries and territories to secure a future based on sustainable development, management and conservation of the ocean and islands of an area covering 10 percent of the world's ocean surface, including economically important waters that provide nearly half of the world's tuna catch. In partnership with the communities and governments of the region, Conservation International is helping reverse ecosystem loss and conserve critical habitats in order to build the resilience of the Pacific Oceanscape's 30,000 islands, atolls and islets to the effects of climate change.
© Chaiwat Subprasom/REUTERS/Alamy Stock Photo
Protecting human rights at sea
Media revelations about slavery and human rights abuses have placed social issues at the forefront of a sector that has spent decades working to improve environmental sustainability. Human rights violations in the seafood industry are accompanied by other serious issues, including institutionalized inequality, undermining of food and livelihood security, and loss of access rights. Collectively these factors drive social instability, poverty and resource decline. These conditions create new impetus for industry, governments and nonprofit organizations to develop collaborative solutions to systematically reduce and eliminate social abuse.
Conservation International works at the nexus of human well-being and environmental sustainability. With environmental, human rights and industry leaders, we are transitioning the Monterey Framework for Socially Responsible Seafood into practice in critical industrial and small-scale fisheries supply chains — ensuring social safeguards to protect fishers' civil, political, economic, social and cultural rights. We target environmental and human-rights hotspots where this crisis is concentrated, bringing research and technical capacity to strategic partners, globally.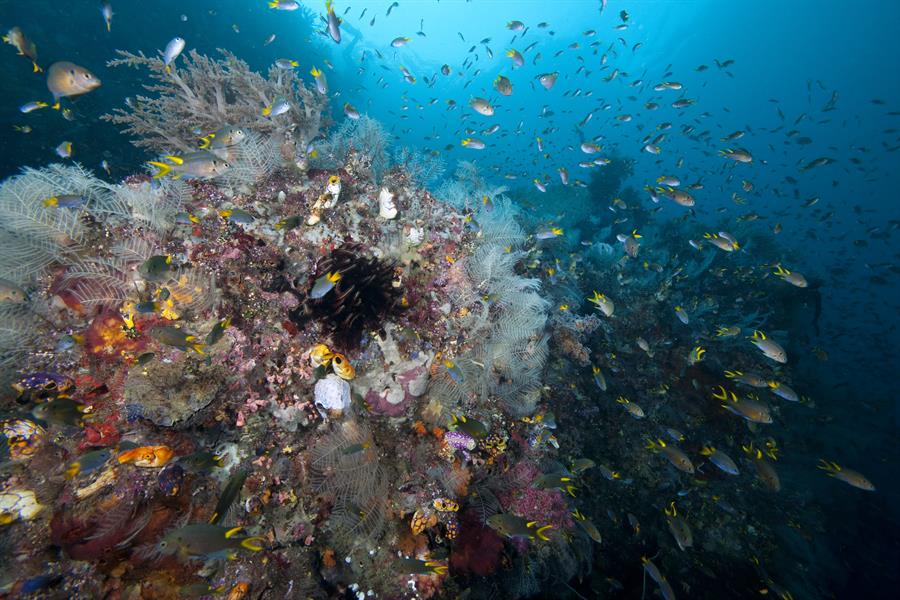 &copy Jeff Yonover
Creating tools for ocean policy
Conservation International works to ensure that decision-makers and partners understand the value of nature and the tradeoffs in ocean health that come with different management decisions. We equip decision makers — from indigenous leaders to policymakers — with accessible, evidence-based tools to actively engage in ocean management and governance.
In 2012, Conservation International launched the Ocean Health Index, the first assessment tool that combines and compares biological, physical, economic and social elements of the ocean's health to measure how sustainably people are using it. By providing a detailed diagnostic of ocean health, both globally and regionally, the OHI enables the smart, sustainable management essential to providing the resources and services we need now and in the future.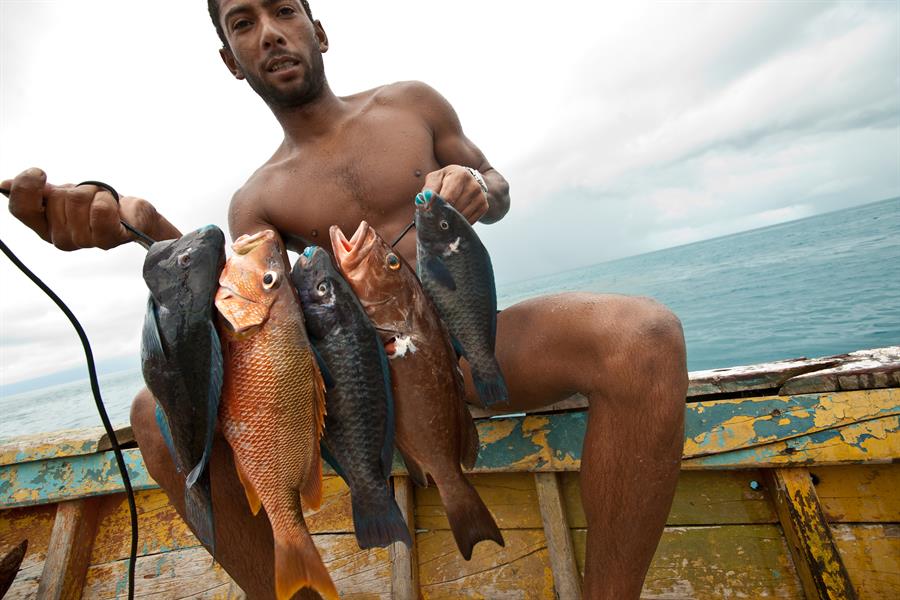 &copy Cristina Mittermeier
Transforming wild fisheries and fish farming
Seafood is the most traded food product globally, and 3 billion people rely on seafood as their primary source of protein. Conservation International works in more than 21 coastal fisheries across nine countries to empower ocean-dependent communities to secure and access this nutrient-rich food source.
In Hawaiʻi, Conservation International is partnering with local communities, the state government and the private sector to integrate local and indigenous knowledge with science to enable local people to grow and profit from their fisheries and aquaculture ponds sustainably.
&copy Ciril Jazbec
Ocean and climate change
Coastal communities are increasingly exposed to climate-driven extreme weather events and rising seas. Coastal ecosystems — mangroves, tidal marshes, and seagrass beds — provide protection from these events while improving local fisheries. These ecosystems store up to 10 times more carbon — called "blue carbon" — per hectare than terrestrial forests, and degradation of these ecosystems accounts for up to 19% of carbon emissions from global deforestation.
Conservation International is demonstrating the importance of ecosystem-based approaches to address the impacts of climate change, including the use of coastal ecosystems to better protect communities from extreme weather. Conservation International, along with IUCN and IOC-UNESCO, leads the Blue Carbon Initiative, a collaborative international effort focused on mitigating climate change by conserving and restoring coastal ecosystems.
Stay Up to Date
Get the latest updates on our oceans — and the rest of Conservation International's conservation work — delivered to your inbox.
Thank you!
News From "Human Nature"
Oceans
Walmart, the world's second-largest retailer, just notched a major win for sustainable seafood. Conservation News spoke to two Conservation International fisheries experts about what this could mean for the global fisheries industry.
© Shawn Heinrichs
An unprecedented success story
In Indonesia, an underwater paradise was once decimated by illegal and unsustainable fishing. Now, it's thriving again. See the success story of Conservation International's work in the Bird's Head Seascape in this virtual-reality film. Visit 'Valen's Reef' »
Ocean protection in action
Conservation International partners with local people who depend on healthy oceans to thrive — benefiting communities and ecosystems through local stewardship.
By 2100, the ocean will likely rise at least 1 meter, and islands in the Pacific average only two meters above sea level. Learn more about how sea-level rise is impacting Pacific Islanders: http://ci-intl.org/1MmvJ3W Follow us on: Twitter: http://www.twitter.com/ConservationOrg Facebook: https://www.facebook.com/conservation.intl Instagram: https://www.instagram.com/ConservationOrg
As a partner in the design of the Pacific Oceanscape, CI helped to create one of the world's most ambitious conservation initiatives — a framework for the long-term, sustainable management of an ocean territory four times the size of the United States. | The Pacific Oceanscape is a political commitment by countries of the Pacific Islands Forum to understand, guard, and conserve the Pacific Ocean for the benefit of all. Learn more: http://www.conservation.org/pacificoceanscape Follow CI on Twitter: http://www.twitter.com/ConservationOrg Follow CI on Facebook: https://www.facebook.com/conservation.intl A CI Studios Production Peter Stonier, John Martin, Becca Field and Sebastian Perry