After the Paris Agreement entered into force in November 2016, parties agreed on a two-year timeline to develop the details to make the agreement operational. Countries must continue negotiations and build consensus by December 2018 to finalize the rules necessary to implement the agreement.
From April 30 through May 10, countries will convene in Bonn, Germany, for the 48th session of the United Nations Framework Convention on Climate Change Subsidiary Bodies (UNFCCC SB 48) to advance the technical guidance that will enable countries to deliver action.
​​​​​​​​​​​​​​​​​​​​​​​​​​​​​​​​​​​​​​​​​​​​​​​​​​​​​​​​​​​​On the Agenda​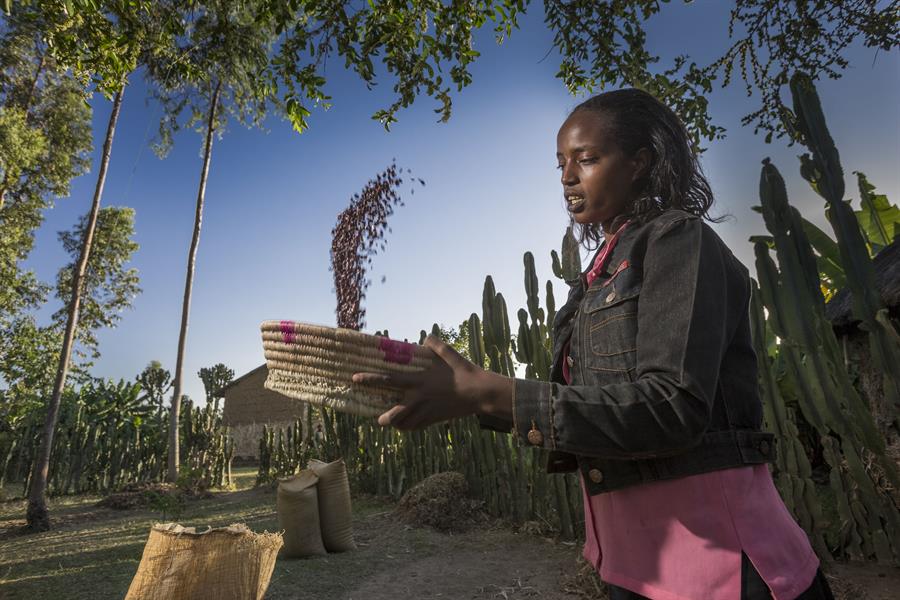 &copy FAO/IFADWFP/Petterik Wiggers/Flickr Creative Commons
In these negotiations, countries will discuss:
Guidance and support needed to implement their national climate commitments
Market-based approaches for meeting mitigation goals
A process to assess countries' progress toward fulfilling the goals of the agreement
Further development of the Local Communities and Indigenous Peoples' Platform to fully engage their diverse knowledge, best practices and experiences in addressing climate change
These and other items will be addressed under the two advisory bodies to the UNFCCC — the Subsidiary Body on Implementation (SBI) and the Subsidiary Body on Scientific and Technological Advice (SBSTA) — as well as the Ad Hoc Working Group on the Paris Agreement (APA).
UN Climate Negotiations 101
Subsidiary Body on Implementation (SBI) deals with issues of implementation such as finance, technology transfer and capacity building.
Subsidiary Body on Scientific and Technological Advice (SBSTA) deals with technical issues such as measuring and reporting carbon emissions, and knowledge-sharing networks.
Ad Hoc Working Group on the Paris Agreement (APA) deals with topics related to entry into force and implementation of the Paris Agreement, such as reporting on mitigation goals and actions, national communications on adaptation, and evaluating collective progress to address climate change.
Nationally Determined Contributions (NDCs) are commitments from each country to take action on climate change, by reducing emissions (mitigation) and preparing for the impacts (adaptation). Each country will update and improve its NDC every five years.
Halting tropical deforestation and allowing forests and other carbon-rich ecosystems to regrow can provide at least 30 percent of the emissions reductions needed to limit average warming to 1.5° Celsius, and can also provide important adaptation benefits.
Natural solutions to climate change are essential for the success of the Paris Agreement, and Conservation International helps countries achieve their goals on climate action by taking advantage of the contributions that nature can provide.
These nature-based approaches can include activities that reduce emissions from deforestation and forest degradation (REDD+), promote climate resilience in land-based activities, enhance carbon stocks along coastlines, and harness the power of ecosystems to adapt to climate change (ecosystem-based adaptation).
These response measures provide additional benefits beyond mitigation and adaptation, and are critical to accelerating our climate change response.
Conservation International contributes our science, field experience and policy expertise to the global climate negotiations. Our policy recommendations for SBI/SBSTA 48 and APA 1-5 are:
Harness the role of nature to deliver national climate action:
Develop further guidance on nationally determined contributions and adaptation communications that encourage countries to include efforts across all sectors, particularly natural climate solutions that address forests, wetlands and peatlands, coastal carbon management, ecosystem-based adaptation, REDD+ and climate-resilient agriculture, among others.
Increase efficiency for delivering climate goals:
Include nature-based solutions as part of market-based mechanisms and ensure that the rules for "International Transferred Mitigation Outcomes" under development facilitate transparency and drive public and private investments toward nature-based approaches, such as REDD+ (Reducing Emissions from Deforestation and forest Degradation).
Assess progress and enhance ambition:
Consider nature's contributions to mitigation and adaptation within the Global Stocktake process (a periodic process to evaluate collective climate action), and assess the extent to which countries are integrating these solutions into their climate actions.
Ensure inclusive participation:
Advance the local communities and indigenous peoples' platform to engage diverse knowledge, best practices, experiences and perspectives to guide climate-related decisions and actions at the national and international levels.
Support implementation of the Gender Action Plan to promote the development and effective implementation of gender-responsive climate policy at regional, national and local levels.
Consider critical issues of agriculture:
Identify the technological and financial support needed to advance advance mitigation and adaptation actions in the agricultural sector.
By 2019, prepare a set of initial decisions to guide negotiations on agriculture and climate change under the Koronivia joint work on agriculture, with options for national-level agricultural interventions.
Incorporate knowledge on oceans and climate change:
Advance discussions under the Convention to better integrate oceans and coastal ecosystems into mechanisms for climate action.
Conservation International's full position paper and key recommendations can be accessed below.
&copy Alan Friedlander
Attending Subsidiary Bodies 48
Our Center for Oceans will host an official side event in collaboration with the government of Chile. This session will discuss activities needed under the UNFCCC to connect work on oceans and climate as part of the global policy agenda.
The event, titled "Financing Oceans and Coasts in the NDCs: Opportunities and Challenges," will take place Tuesday, May 8, 2018, from 6:30 p.m. to 8 p.m. at the World Conference Center in room Berlin 112.