United Nations Framework Convention on Climate Change
Learn more about this session on the UNFCCC website »
Glossary
The Conference of the Parties (COP) refers to the annual meeting of the member countries of the 1992 United Nations Framework Convention on Climate Change. This year's COP in Bonn is the 23rd annual meeting to advance on Parties' shared objectives of stabilizing greenhouse gas concentrations in the atmosphere.
Subsidiary Body on Implementation (SBI) deals with issues of implementation such as finance, technology transfer and capacity building.
Subsidiary Body on Scientific and Technological Advice (SBSTA) deals with technical issues such as measuring and reporting carbon emissions, and knowledge-sharing networks.
Ad Hoc Working Group on the Paris Agreement (APA) deals with elements related to implementation of the Paris Agreement.
After the Paris Agreement​ entered into force in November 2016, countries began a two-year process to make the Paris Agreement fully operational. This November, countries will review their progress and, by December 2018, will finalize the rules necessary to implement the agreement. Nature-based solutions to climate change are essential for the success of the Paris Agreement, and Conservation International's climate policy work supports countries in integrating nature-based solutions as key components of national commitments and action plans.
From November 6 to 17, 2017, countries will convene in Bonn, Germany, for the 23rd session of the United Nations Framework Convention on Climate Change Conference of the Parties (UNFCCC COP 23) to advance the aims and ambitions of the Paris Agreement and achieve progress on its implementation guidelines.
As COP President, Fiji is leading this year's negotiations, marking the first time that a Pacific Small Island Developing State has been at the forefront of UN climate negotiations. This provides a timely reminder of the unique climate challenges faced by the countries in the Pacific, as well as of the region's leadership to develop innovative solutions to climate change that are appropriate for islands and coastal communities.
During the negotiations, countries will discuss the guidance and support needed to implement their national climate commitments, market-based approaches for meeting mitigation goals, a process to assess progress toward fulfilling the goals of the agreement, and ways to ensure stakeholder participation. These and other items will be addressed under the two advisory bodies to the UNFCCC — the Subsidiary Body on Implementation (SBI) and the Subsidiary Body on Scientific and Technological Advice (SBSTA) — as well as the Ad Hoc Working Group on the Paris Agreement (APA).
Our Approach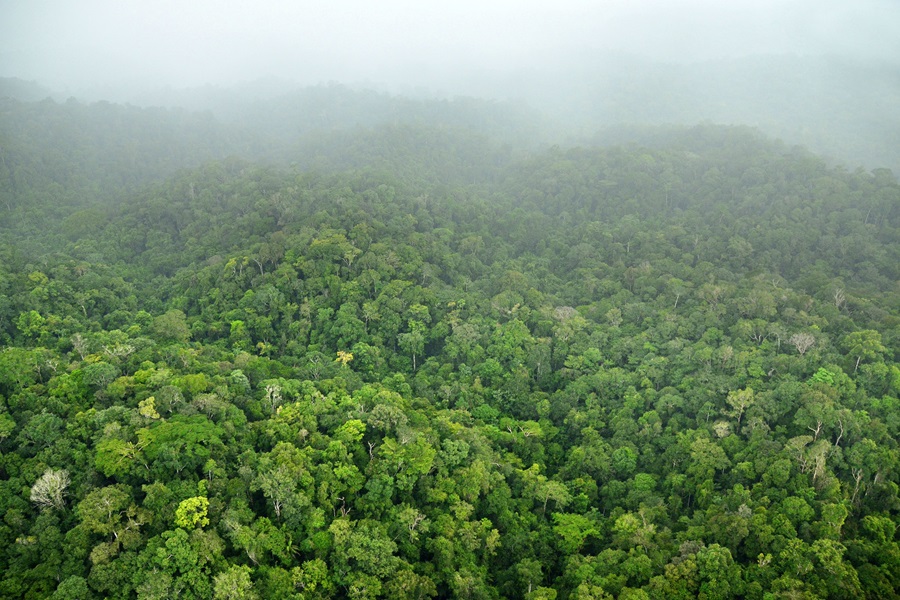 &copy Trond Larsen
Nature can provide at least 30 percent of the mitigation action needed to fight climate change.
Protecting ecosystems and the beneficial services they provide is one of our most immediate and effective solutions to mitigating the causes of and adapting to the impacts of climate change.
These nature-based approaches can include activities that reduce emissions from deforestation and forest degradation (REDD+), conserve and restore marine ecosystems, enhance "blue" carbon stocks along coastlines, and harness the power of ecosystems to adapt to climate change (ecosystem-based adaptation). These response measures provide additional socio-economic benefits beyond mitigation and adaptation, and are critical to accelerating our climate change response.
Our policy stance at COP 23​
Conservation International contributes our science, field experience and policy expertise to the global climate dialogues. Below, you will find Conservation International's specific policy recommendations for the negotiations at COP 23 on how nature-based solutions can best support the implementation of the Paris Agreement and fulfillment of its objectives:
Harness the role of nature to deliver national climate action

Develop further guidance on nationally determined contributions and adaptation communications that encourages countries to incorporate actions across all sectors, including nature-based solutions to climate change, that also generate environmental and socioeconomic co-benefits.

Increase efficiency for delivering climate goals

Develop guidance on cooperative approaches that encourage the generation of internationally transferred mitigation outcomes across all sectors, including sectors with high emissions and taking advantage of the potential for removals from sinks, while promoting high environmental integrity through robust accounting and transparency rules.

Assess progress and enhance ambition

Consider the role of nature-based solutions in achieving the global goals as part of the global stocktake process and assess the extent to which countries are taking advantage of these solutions.

Consider critical issues of agriculture and fisheries

Agree to prepare recommendations and options for national-level agriculture and identify technological and financial support needed to advance these efforts, including areas where actions can be immediately implemented as well as other areas that require additional research and/or capacity building.
​Agree to evaluate the impacts of climate change on fisheries and livelihoods, assess adaptation approaches for addressing these impacts and prepare recommendations for addressing fisheries in NDCs and adaptation communications.

Ensure inclusive participation

Activate formal structures for Indigenous Peoples and Local Communities' (IPLCs) diverse knowledge, best practices, experiences and perspectives to guide climate-related decisions and actions at the national and international levels, including through the establishment and management of a platform for knowledge exchange.
Turning science into policy
How should nature-based solutions for fighting climate change be implemented? What is the role of the private sector? What should REDD+ look like? These and other issues were covered in a series of briefs that translate Conservation International's research into policy prescriptions:
Donate
Donate to Conservation International to protect all the parts of nature we can't live without.