A new global climate agreement was adopted at the United Nations Framework Convention on Climate Change (UNFCCC) 21st Conference of the Parties (COP 21) in Paris.
The Paris Agreement reached at COP 21 will spur stronger action to address the greatest challenge humanity faces: global climate change. Among the accomplishments of the negotiations are the overall inclusion of nature in the agreement, recognition of the role of tropical forests in curbing emissions — "forests" are referenced 11 times in the final document — and a growing emphasis on adapting to climate impacts.
Our approach: Value nature + collaborate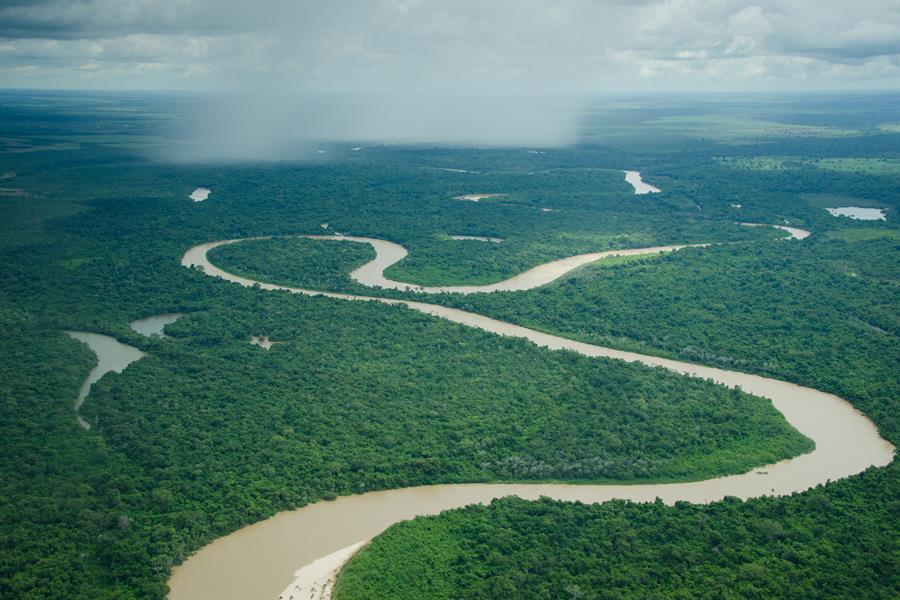 &copy Luana Luna
Conservation International believes that nature is our best defense against climate change. Protecting ecosystems and the beneficial services they provide is one of our most immediate and effective solutions to mitigating the causes of and adapting to the impacts of climate change. Climate action is not just the responsibility of governments — communities, civil society and businesses all have a part to play. In particular, private-sector action is crucial for moving toward a low-carbon and climate-resilient future, and the agreement is an opportunity to start a conversation across sectors and forge new partnerships to tackle the challenge together.
Turning science into policy
How should nature-based solutions for fighting climate change be implemented? What is the role of the private sector? What should REDD+ look like? These and other issues were covered in a series of briefs that translate Conservation International's research into policy prescriptions:
Our policy stance at COP 21
Conservation International worked to ensure that the Paris Agreement on climate change included provisions for nature-based solutions for mitigation and adaptation. This includes:
Formal recognition of the vital role that nature plays in reducing greenhouse gas emissions, sequestering carbon and enhancing resilience to the impacts of climate change;
Global goals on both mitigation and adaptation;
Individual country commitments that ensure strong social and environmental outcomes from actions addressing climate change;
Inclusion of transparent, consistent, comparable, complete and accurate accounting rules for nature-based solutions; and
Predictable and adequate funding flows for nature-based solutions to encourage implementation of tried, tested and proven measures — such as REDD+, blue carbon and ecosystem-based adaptation — which can also generate significant emissions reductions and removals before the agreement goes into effect in 2020.
President Anote Tong of the Republic of Kiribati, a small Pacific Island nation, is leading the formation of the Pacific Oceanscape — an action plan for marine conservation that impacts almost 40 million square kilometers (more than 15 million square miles), a territory larger than Canada, the United States and Mexico combined. | President Tong, also a CI Board Member, explains not only the need to set aside marine protected areas for ensuring food security, but also shares examples of how rising sea levels are dramatically affecting his island nation and his people. Learn more about the Pacific Oceanscape: http://www.Conservation.org/PacificOceanscape Learn more about President Tong: http://www.conservation.org/how/ci_in_action/pacific-oceanscape/Pages/President-Anote-Tong-of-Kiribati-On-the-Front-Lines.aspx Follow CI on Twitter: http://www.twitter.com/ConservationOrg Follow CI on Facebook: https://www.facebook.com/conservation.intl A CI Studios Production Peter Stonier, John Martin, Becca Field and Sebastian Perry
As a partner in the design of the Pacific Oceanscape, CI helped to create one of the world's most ambitious conservation initiatives — a framework for the long-term, sustainable management of an ocean territory four times the size of the United States. | The Pacific Oceanscape is a political commitment by countries of the Pacific Islands Forum to understand, guard, and conserve the Pacific Ocean for the benefit of all. Learn more: http://www.conservation.org/pacificoceanscape Follow CI on Twitter: http://www.twitter.com/ConservationOrg Follow CI on Facebook: https://www.facebook.com/conservation.intl A CI Studios Production Peter Stonier, John Martin, Becca Field and Sebastian Perry
Donate
Donate to Conservation International to protect all the parts of nature we can't live without.