For surfers riding waves from Bali to Baja, the health of the ocean is deteriorating right beneath their boards thanks to unchecked coastal development, overfishing and climate change.
Surfing brings in $50-billion-a-year and is enjoyed by more than 34 million people across the globe, people who are passionate about keeping the ocean — and their favorite surf spots — healthy.
Conservation International and Save The Waves Coalition joined forces to create the Surf Conservation Partnership to mobilize surfing communities on a global scale and protect areas where outstanding surfing waves and the most biologically diverse marine ecosystems overlap. The goal: sustainably manage millions of acres of coral reefs and other critical marine habitats in areas that otherwise would not be conserved.
THE APPROACH IS SIMPLE
We work with local communities and governments to create "Surf Protected Areas" that conserve coral reefs, coastlines and coastal forests in places where high-quality waves draw surfers.
By 2023, the Surf Conservation Partnership will:

​Create more than 20 Surf Protected Areas around the world, covering more than 1 million hectares of coral reef, mangrove, coastline, coastal forest and more than 300 high-quality surfing waves.

Implement conservation projects and develop sustainable surf and marine tourism programs.

Demonstrate to decision-makers the massive economic contribution that surfing makes to local economies through Surfonomics studies.

Expand and strengthen the World Surfing Reserve (WSR) Program, adding at least eight new WSRs to protect the world's most iconic waves and surrounding ecosystems.
Creating the world's first Surf Protected Area Network in Indonesia
Across Indonesia, surfing is critical to local economies and has vast potential to support conservation — in the Uluwatu surf area in Bali, for example, the surf break contributes US$ 35.3 million annually. But Bali and other popular surf locations are also plagued by plastic pollution, sewage and overfishing.
Our partners
Save The Waves coalition
Save The Waves protects surf ecosystems through a unique combination of protected areas, stewardship and direct action. By protecting surf ecosystems, Save The Waves is protecting human well-being and connection to the ocean, sustainable coastal livelihoods and ecological resilience.
A liquid future
The Indonesian NGO empowers isolated coastal communities that are undergoing marine tourism development, with a particular focus on helping women and girls through experiential learning programs in communication, technology, creative and social Media, water sports and sustainable marine stewardship and tourism development.
UCLA
Key to this partnership is our collaboration with the University of California Los Angeles (UCLA) Institute of the Environment and Sustainability (IoES). Based in one of the world's epicenters of surfing in Southern California, this world-renowned institute is lending its academic expertise to profile locations where surfing and conservation priorities overlap. IoES is also conducting research to better understand the economic and social importance of surfing to local communities.
With only 7,000 visitors a year, Morotai Island — the Surf Conservation Partnership's pilot site — doesn't suffer from these issues. But a new plan for rapid tourism development could change all that: In January 2016, the Indonesian president pledged to raise the visitor rate on the island to 1 million — a monumental increase that will place tremendous strain on the environment and local communities.
To address these massive threats, the Surf Conservation Partnership is working with local partners to create a Surf Protected Area covering 30 miles of coastline, 120 million hectares (nearly 300 million acres) of coral reef and coastal forest, and more than 30 high-quality surfing areas.
Surf Protected Area Networks
These networks combine the legal protection of marine ecosystems and sustainable community development in areas where priority marine ecosystems and high-quality waves overlap. The networks protect the ecological, economic and social value of surfing waves and their surrounding environments by including prohibitions against activities that damage habitat, impact water quality or deplete marine resources.
In Indonesia, Surf Protected Area Network sites will receive formal government designation within the country's legal system. Conservation International and Save The Waves Coalition will create Surf Protected Area Networks in Latin America, the Pacific Islands and Africa.
Surfonomics
Healthy coastlines and quality surfing waves have immense social and economic value to communities. Surfonomics helps experts determine the economic value of surfing to local communities to help decision-makers make better choices to protect their coastal resources and waves.
​Contact info:
Scott Atkinson, senior technical adviser, Conservation International's Center for Oceans. For more information, contact us.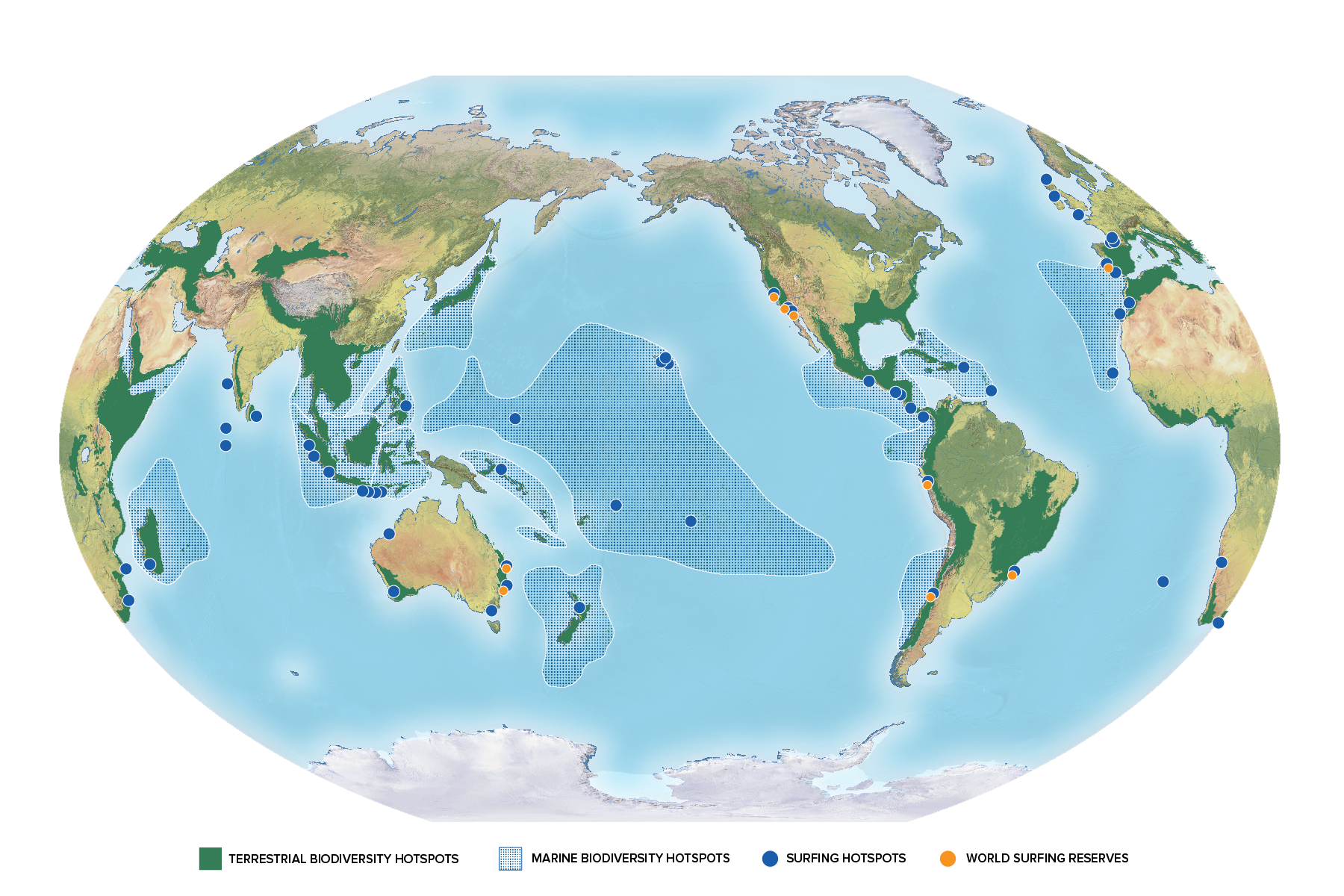 Across the globe, more than 75 percent of the world's best surfing waves are located in areas that are critically important for marine and coastal conservation. Existing World Surfing Reserves are working to protect several of these spots, but the Surf Conservation Partnership will work to protect many more.