For surfers riding waves from Bali to Baja, the health of the ocean is deteriorating right beneath their boards due to unchecked coastal development, overfishing and climate change.
Surfing brings in $50-billion-a-year and is enjoyed by more than 35 million people across the globe, people who are passionate about keeping the ocean — and their favorite surf spots — healthy.
Conservation International and Save The Waves Coalition joined forces to create the Surf Conservation Partnership to mobilize surfing communities on a global scale and protect areas where outstanding surfing waves and the most biologically diverse marine and coastal ecosystems overlap. The goal: to sustainably manage millions of hectares of coral reefs, coastal forests and other critical habitats in areas that otherwise would not be conserved.
THE APPROACH IS SIMPLE
We work with local communities and governments to create "Surf Protected Areas."
With surfing waves as the anchor, Surf Protected Areas conserve much larger surrounding ecosystems by removing threats of overfishing, deforestation, plastic pollution and unsustainable development — helping nature and people to thrive.
By 2025, the Surf Conservation Partnership will:

Protect more than 1 million hectares (2.5 million acres - an area that is 100 miles long by 40 miles wide or 4000 square miles) of coral reef, mangrove, coastline and coastal forest. This will protect more than 300 high-quality surfing waves by creating at least 20 Surf Protected Areas around the world.
Improve the lives of tens of thousands of people through sustainable development.
Help youth (with a focus on girls and young women) build critical life skills and actively lead conservation and sustainable economic enterprises.
Implement sustainable tourism programs that encourage community-centered, environmentally responsible surf and nature tourism.
Demonstrate to decision-makers the massive economic contribution that surfing makes to local economies and the critical role it can play in conservation.
Support the Surf Conservation Partnership
This innovative partnership is mobilizing surfing communities to protect nature in some of the world's most precious marine and coastal areas – for the benefit of everyone on Earth.
© Luke Cromwell
Creating the world's first Surf Protected Area Network in Indonesia
Across Indonesia, surfing is critical to local economies and has vast potential to support conservation — in the Uluwatu surf area in Bali, for example, the surf break contributes US$ 35.3 million annually. But Bali and other popular surf locations are also plagued by plastic pollution, sewage and overfishing. We are creating a Surf Protected Area network across the country to address these issues.
Our collaborators
UCLA
Key to this partnership is our collaboration with the University of California Los Angeles (UCLA) Institute of the Environment and Sustainability (IoES) and the Anderson School of Management. Based in one of the world's epicenters of surfing in Southern California, this world-renowned university is lending its academic expertise and business acumen to strengthen our Surf Protected Area initiatives.
A Liquid Future (ALF)
The Indonesian NGO supports isolated coastal communities that are undergoing marine tourism development, with a particular focus on helping women and girls through experiential learning programs in communication, technology, creative and social media, water sports, and sustainable marine stewardship and tourism development.
Indonesian Locally Managed Marine Area Foundation
The Indonesian NGO assists communities across eastern Indonesia to protect their vital ecosystems and natural resources by creating locally managed marine areas (LMMAs). Primarily working as fishers and farmers, local people depend directly on nature for their daily survival. LMMAs work with villages to create their own protected areas that remove threats and greatly increase the abundance of fish, and the health of reefs and forests to make sure people have abundant food and income and a high quality of life.
Our first Surf Protected Area
With roughly 7,000 visitors a year, Morotai Island — the Surf Conservation Partnership's first site — is home to intact forest, reefs and more than 30 high-quality uncrowded waves. But a new plan for rapid tourism development could change all by that increasing pressure on the environment and local communities.
To address these threats, the Surf Conservation Partnership is working with local partners to create a Surf Protected Area to conserve 50 kilometers (31 miles) of coastline, 100,000 hectares (nearly 250,000 acres) of coral reef and coastal forest and the area's more than 30 waves. The Surf Protected Area will also promote sustainable tourism development that balances the need for income from tourism with conservation of the environment.
Surf Protected Area Networks
Building on the first Surf Protected Area in Morotai, SCP is working to establish Surf Protected Areas in Biak island, Papua Province; in Sumba island, East Nusa Tenggara Province; and in Bali to create an Indonesia-wide Surf Protected Area Network. In time we will create similar networks in Fiji, Costa Rica, Brazil, Liberia and other countries.
These networks combine the legal protection of marine ecosystems and sustainable community development in areas where priority marine ecosystems and high-quality waves overlap. The networks protect the ecological, economic and social value of surfing waves and their surrounding environments by including prohibitions against activities that damage habitat, impact water quality or deplete marine resources.
Surfonomics
Healthy coastlines and quality surfing waves have immense social and economic value to local communities. Surfonomics is a key part of the Surf Protected Area approach and helps experts determine the economic value of surfing to help decision-makers make better choices to protect their coastal resources and waves. Globally, each site with good surfing waves generates US$ 18 million annually for the local economy — highlighting the importance of protecting surf areas and managing surf tourism to local communities and governments.
​Contact info:
Scott Atkinson, Director, The Surf Conservation Partnership, Conservation International's Center for Oceans. For more information, contact us.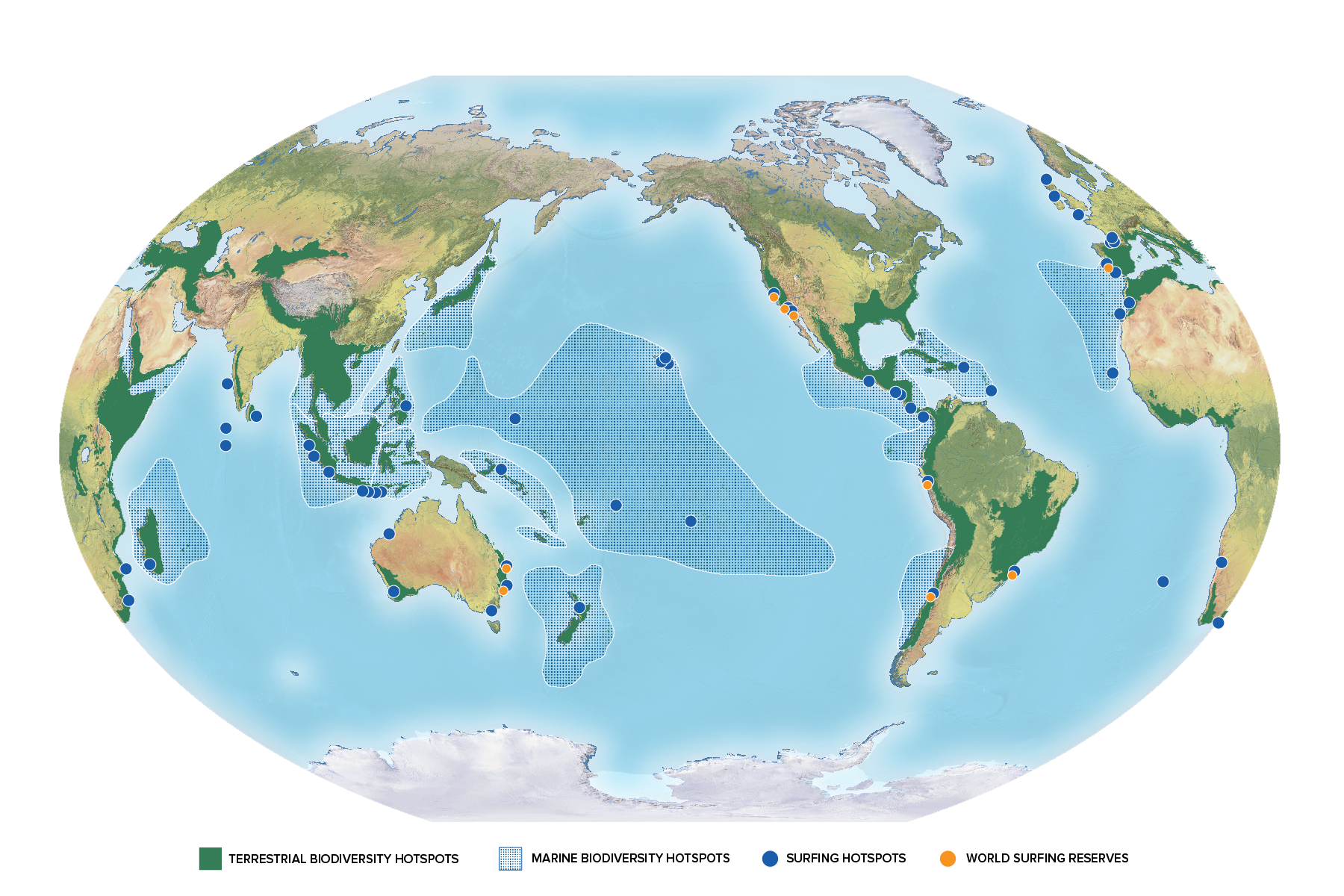 Across the globe, more than 75 percent of the world's best surfing waves are located in areas that are critically important for marine and coastal conservation. Existing World Surfing Reserves are working to protect several of these spots, but the Surf Conservation Partnership will work to protect many more.
Surf Conservation Partnership Founders
Conservation International and Save The Waves Coalition greatly appreciate the visionary people who are helping to launch the Surf Conservation Partnership. These are our Partnership Founders, who are generously offering their advice, engaging their friends and colleagues in the initiative and providing critical funding and support.
Sarah Argyropoulos
Nico Argyropoulos
Scott K. Atkinson and Ashley Kleckner
Kristina Brittenham and Jesse Sisgold
Joe Chrisman
Erin Culley and Richard Carlson
Langley Eide and Tom McDonald
Justin Havlick
Tom Larkin
David Joshua Levy
Randy Sinquefield
Shannon and Bryce Skaff
John Swift and the Mycorrhizal Fund
Brad Warga
Protect Nature
Your donation will help us reach our ambitious $75,000 Earth Day goal by April 22.