News of the 2019 fire season in Amazonia has made headlines around the world, but there's more to the story. Analysis by Conservation International is revealing where the fires are and why that matters.
* Thermal anomalies detected by NASA MODIS Aqua and MODIS Terra satellites with greater than or equal to 30% confidence in the most recent 48 hours (red), 7 days (orange), and this fire season (yellow). Click to expand legend icon in the upper left corner to view protected areas and indigenous lands, or land cover. Click here for land governance data sources.
There's more to the story
August 2019 was one of the worst months for fires in 5 years
"Fire season" in Amazonia begins in July when farmers in the region typically clear their land with fire to grow crops. Fire is also the main tool for clearing tropical forests. During the dry season, agricultural fires can burn out of control, resulting in deforestation and forest degradation.

There have been worse fire years in Amazonia
As this chart shows, recent fire seasons have seen more fires than we've seen so far in 2019. Cyclical dry periods are tied to El Niño events, however, a climate-change-induced drying trend is causing more frequent and severe droughts and fires. That's why CI's Amazon Restoration Alliance is restoring Brazil's lands to increase nature's resilience to climate change. One strategy to reduce the use of fire by farmers is establishing agroforestry systems.

More than half of the fires are in or near forests
Over a quarter of the fires are in forested areas, with an additional one-third of fires occurring on the forest-agricultural frontier1, where they dry out the forest edge, making these edges more susceptible to fires and droughts. This degradation causes a dieback of the tropical forest, which is replaced by grasses and shrubs, permanently changing tropical forests to grasses and shrub vegetation that are extremely susceptible to more fires.
Most of the fires2 are outside protected areas and indigenous lands
By knowing where fires are occurring, we can target owners and managers of those lands to intervene with appropriate strategies. One strategy is preventing fire ignition by educating farmers about current and future dry conditions. Our partners at Fundacion Amigos de La Naturaleza in Bolivia are empowering communities and fire brigades with fire-alert tools to quickly control fires before they spread.
In Brazil, deforestation outside protected and indigenous lands in the Legal Amazon3 has increased in recent years
In public lands, most of the deforestation is happening in rural settlements and public properties. Some of the planet's most effective stewards of nature, indigenous peoples frequently lack consistent and timely access to the data, technologies and resources necessary to monitor new threats to nature and their livelihoods. Conservation International's Earth Observations for Indigenous-led Land Management (EO4IM) provides technical capacity-building in geospatial tools that can help communities monitor the status and condition of their lands and to make informed decisions about conservation and land management.

Both soy and beef are produced in high-fire regions of Brazil — and driven by global and domestic demand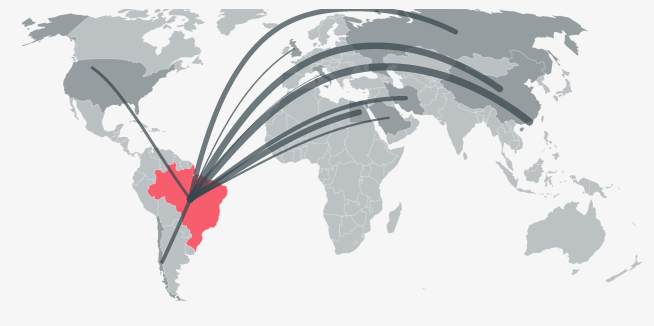 © www.trase.earth
Brazil leads the world in soy production and is the world's largest beef exporter. Using Trase data, we can track the beef and soy supply chains of importing nations and companies to determine recent purchase patterns within the 50 Amazonia municipalities with the highest rate of fires in 2019.4 China (mainland), the European Union, and Brazil are the main purchasers of soy from high fire municipalities. China (Hong Kong), Egypt and Russia are the main international purchasers of beef from high fire municipalities, with the majority of beef consumed domestically.
A tipping point
Protected areas and indigenous lands can help us save this vital ecosystem. Up to 20% of the Amazon has already been lost, and researchers suggest that if this reaches 25% to 30%, the entire biome will be permanently altered, with global ramifications for our climate.
Where there's smoke, there's Firecast
Developed in part by Conservation International, Firecast is an online platform that uses satellite observations to track ecosystem disturbances such as fires, fire risk conditions, deforestation and delivers this time-sensitive information to decision-makers through email alerts, maps and reports.
The Amazon forest-agriculture frontier represents an approximately 1 km buffer that straddles the boundary of large contiguous forests and agricultural lands. This is a critical zone where tropical forests are dying back due to degradation and drying-out. It is also an area that contains an incredibly high concentration of fires.
Due to uncertainties of the exact locations of the satellite-detected fires, we use a 1-km buffer to confidently separate fires inside protected areas and IP areas from fires that that occur within 50 meters of the boundary edge, either inside or outside. We refer to this edge zone as the "Protected Area and IPLC accuracy buffer." Read an an explanation of fire detection accuracies.
Brazil's Legal Amazon (or Amazônia Legal) is the largest socio-geographic division in Brazil, containing all nine states in the Amazon basin. It is an official designation covering 59% of Brazil but only 12.34% of the Brazilian population lives there. Although called Amazônia Legal, the region overlaps three different biomes: all of Brazil's Amazon biome, 37% of the Cerrado biome and 40% of the Pantanal biome.
Brazilian soy and beef volumes Trase dataset from 2017 compared to 2019 fires.