Contact Info and Current Positions
For questions, please contact:
Kelsey Rosenbaum
Director of Global Exchanges + Technical Fellows Program
krosenbaum@conservation.org
(703) 341-2853
​​At Conservation International we believe that investing in talent is fundamental to our mission and key to providing sustainable solutions. In that spirit, the Lui-Walton Innovators Fellowship program hosts conservation fellows — academics, scientists, public and private sector leaders, independent scholars and policy analysts — who work to create dynamic and unconventional approaches to address existing barriers to sustainability and contribute to a shift in how nature is valued. These fellowships provide unparalleled opportunities for intensive focus and achievement at the intersection of climate, conservation, business and technology.
The program engages recognized leaders — Distinguished and Senior Fellows — and emerging talent — Technical Fellows — to provide fresh thinking and extensive leadership to Conservation International's work around the world. By strategically combining the skills and knowledge of both groups, the Lui-Walton Fellows are able to expand the breadth of their skills, gain valuable experience in their fields, and find innovative solutions together with Conservation International program staff and local partners.
The Lui-Walton fellowship is distinguished by four ​​key areas of opportunity: travel, access to resources, professional development and direct participation in Conservation International programs.
© Noel Matoff
Dr. Günther Bachmann
As a Lui-Walton Senior Fellow, Günther works to elevate and advance Conservation International's efforts in Germany and across Europe.
Günther serves as adviser to the CEPEI Covid-19 Data and Innovation Center at the Center for International Strategic Thought (CEPEI), a think tank based in Colombia. He is also a member of the Scientific Advisory Board of the German Thünen Institute, the European Environment and Sustainable Development Advisory Councils (EEAC), the board of trustees of the German Nature Conservation Association, and the executive board of the German Sustainability Award for companies and municipalities.
Formerly, Günther was director of the German Council for Sustainable Development, an innovative multi-stakeholder body that advises the German government on sustainable development. He has held leading positions on soil and land regulation at the German Federal Environment Agency and was instrumental in the creation of the country's 1999 soil protection law.
He has a PhD in landscape planning from the Technical University of Berlin.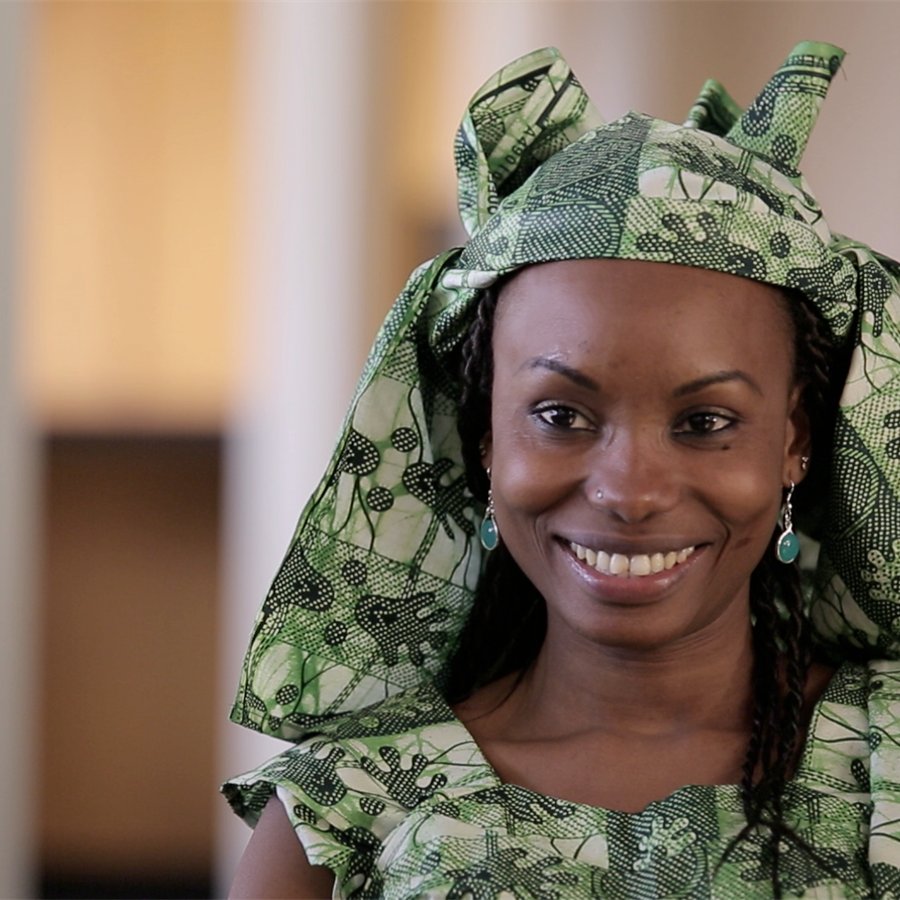 &copy Conservation International
Hindou Oumarou Ibrahim
As Conservation International's Lui-Walton Senior Indigenous Fellow, Hindou Oumarou Ibrahim advocates for greater inclusion of indigenous groups — and their knowledge — in the global climate movement.
A member of the Mbororo semi-nomadic community, she leads the Association for Indigenous Women and Peoples of Chad. Lake Chad, a water source for 40 million people, has lost 90 percent of its surface area in just 40 years. As conflict has increased among groups competing for this essential resource, Ibrahim began the first major dialogue among the area's numerous cultures and communities. Together, they are creating a 3D-map of the environmentally fragile region to inform conservation and resource management while promoting security.
Over the last decade, Hindou has worked with indigenous communities at the local and international levels to give a voice to those who are never heard — and to make governments and the private sector listen. She is a United Nations Sustainable Development Goals Ambassador and a member of the UN Permanent Forum for Indigenous Issues, and she served on the Key Advisory Committee to the Secretary General for the 2019 Climate Action Summit. In 2019, Hindou won the Pritzker Emerging Environmental Genius Award; was listed as one of 15 women leading the fight against climate change in Time Magazine; was featured in ELLE Magazine's first-ever conservation issue; and delivered a powerful TEDWomen talk.
© John E. Scanlon
John E. Scanlon
As a Lui-Walton Senior Fellow, John will provide strategic counsel to Conservation International's global leadership to promote and strengthen natural climate solutions and slow the loss of biodiversity, including elevating the organization's work to help elephants and people thrive together.
John is the CEO of the Elephant Protection Initiative Foundation (EPI-F), chair of the Global Initiative to End Wildlife Crime, and chair of the British government's Illegal Wildlife Trade Challenge Fund. He served as secretary-general of the Convention on International Trade in Endangered Species of Wild Fauna and Flora (CITES) from 2010 to 2018 and as special envoy for African Parks from 2018 to 2020. John is uniquely suited — leading the EPI-F's alliance of 21 African countries dedicated to conserving their elephants — to ensure that nature-based solutions are at the center of decision-making.
John holds a bachelor of laws and a master of laws (environment) from the University of Adelaide, Australia. He was made a Member of the Order of Australia in 2011, and in 2019 was made an Officer of the Order of Australia for distinguished service to wildlife conservation and protection through roles with international organizations.
&copy Courtesy of Aaron Bruner
Aaron Bruner
Sustainable Landscapes & Seascapes Economics Fellow
Aaron assesses the systemic economic conditions that drive major investment decisions toward unsustainability across key Conservation International geographies known as sustainable landscapes and seascapes (SLS). Aaron's analyses help inform decision-makers in SLS sites of opportunities for impact investment, carbon offsets, government policy, philanthropy and other incentives needed to transition the sites to sustainability.
Aaron has worked for 20 years leading conservation projects and research in developing countries. Areas of focus include green economies, the benefits and costs of protected areas, ecosystem service valuation, infrastructure development and conservation incentive agreements. He holds a Master of Public Policy with a concentration in economics from Princeton University.
© Bronson Griscom
Bronson Griscom
Natural Climate Solutions Fellow
Bronson joins Conservation International as the Natural Climate Solutions Fellow, leading the organization's Natural Climate Solutions team. He previously led the Carbon Science team at The Nature Conservancy, where he led the landmark study in 2017 that introduced the term "Natural Climate Solutions" and identified that they provide over 30 percent of the emissions reductions needed by 2030 to keep global temperature increases under 20C. Bronson and his team will conduct transformative research on natural climate solutions, including their monitoring and evaluation against targets, their global climate mitigation potential and the development of large-scale implementation strategies.
© MEIZANI IRMADHIANY
Meizani Irmadhiany
Indonesia Fellow
Meizani leads the CI Indonesia program. She works across the Asia-Pacific region, implementing strategies and developing partnerships with private and public sectors to achieve the best outcomes for people and nature. She has more than 16 years of experience working in the development and business sector. Her experience spans the private and civil society sector and includes extensive experience in sustainable land-use, agriculture, renewable energy, labor and disaster relief. Prior to joining CI, she worked in the private sector on sustainable rubber and was instrumental in building a natural rubber business aimed at developing sustainable production. Meizani earned a BA in global studies and political science from the University of Minnesota and was also a fellow of the United in Diversity/MIT Sloan IDEAS program in 2011-2012.
&copy Conservation International
Juan Carlos Ledezma
Spatial Planning and Target Setting Fellow
Juan Carlos has been working for Conservation International for more than 14 years, supporting the Bolivia office's Land Use Planning, GIS and Project Management. He is a biologist with a specialized focus in natural resource management and earth observation. As the Spatial Planning and Target Setting Fellow, he will work on supporting target setting for the 10+ countries in the Americas Field Division as well as contributing to Conservation International's mapping work and the conceptual definition of Climate Irreplaceable Ecosystems. Juan Carlos is based in Bolivia.

© Conservation International
Evan Rapoport
Senior Technology Fellow
As the Senior Technology Fellow at Conservation International, Evan helps build creative partnerships with innovative technology companies to benefit nature. He has nearly 20 years of experience inventing and launching new products and companies across many fields. He worked as Project Co-Founder/Lead and Rapid Evaluator of moonshots at Google X in food systems and consumer hardware; as a Product Manager at Google Maps, focusing on community photography and Street View; and most recently as the founding CEO of Oceankind, an ocean conservation foundation. He holds a BA in Cognitive Science with a minor in Computer Science from the University of Virginia.
© Jacques van Rooyen
Jacques van Rooyen
Rangeland Restoration Fellow
Jacques leads the development of an Integrated Rangeland program for the Africa Field Division. He is creating a strategy for the Rangelands program whilst building a team to ensure continued growth and momentum within the Herding for Health program across the continent.
© Conservation International
Yiting Sun
China Belt and Road Fellow
Yiting leads Conservation International's work in China related to the Belt and Road Initiative (BRI), government-led effort focused on building infrastructure, increasing cultural exchanges and broadening trade. He will advance the organization's goals and priorities related to China and BRI and engage with stakeholders by introducing Conservation International's approach to biodiversity conservation. His work will also cover policy, conservation finance and climate change. Yiting has more than 10 years of experience working in sustainable finance, responsible overseas investment and climate policy analysis, and has worked at WWF China, International Finance Forum and a private equity firm. A trained economist, Yiting holds master's degrees from the Johns Hopkins University, University of Southern California and Fudan University.
© Solina Teav
Solina Teav
Blue Carbon Finance Fellow
Solina will be working across multiple divisions to accelerate the development and execution of a robust, high quality global blue carbon project pipeline, and advise the design, development and deployment of innovative blended finance strategies and products that enable investment in blue carbon and other natural climate solution portfolios. Before joining Conservation international, Solina worked at Grand Challenges Canada where she led structuring for the organization's private debt and equity investments and managed a portfolio of early-stage impact focused innovations in the area of global health. Prior to that, Solina helped to develop and structure Akipeo, a fund focused on climate smart agriculture in Sub-Saharan Africa and previously worked in capital markets. Solina holds a bachelor of commerce degree, with a specialization in finance from the University of Ottawa.
© Conservation International
Aya Uraguchi
Carbon Finance Supply Fellow
Aya is focused on supporting the design, funding and implementation of carbon finance projects to fight accelerating deforestation and ecological degradation in the Asia Pacific region. Since joining Conservation International in 2010, she has been developing and managing the organization's conservation work funded by Japanese companies. Before joining Conservation International, Aya worked at a consulting company, Mitsubishi Research Institute, where she provided support to public and private sectors in the fields of climate change and biodiversity. A trained forest ecologist, Aya holds a Ph.D. from Hokkaido University and a bachelor's degree from International Christian University in Japan.
© Neil Vora
Neil Vora
Pandemic Prevention Fellow
Neil is a physician with Conservation International where he leads efforts on pandemic prevention through addressing the underlying drivers of pathogen emergence such as deforestation. He was previously with the US Centers for Disease Control and Prevention (CDC), which he first joined in 2012 as an Epidemic Intelligence Service officer. While with CDC, Dr. Vora deployed to Liberia and the Democratic Republic of the Congo to assist in the responses to the two largest Ebola outbreaks on record and to the country of Georgia to lead an investigation of a newly discovered virus related to the smallpox virus. From 2020-2021, Dr. Vora led New York City's COVID contact tracing program composed of over 3000 staff. He has over 60 publications including in the New England Journal of Medicine, the Journal of the American Medical Association, and The Lancet and is currently an Associate Editor at CDC's Emerging Infectious Diseases journal. Dr. Vora still sees patients in a public tuberculosis clinic in New York City. He completed medical school at the University of California, San Francisco (UCSF) in 2009 and his Internal Medicine training at Columbia University in 2012.
&copy Conservation International
Andrew Wu
Climate Positive Approaches Fellow
As the Climate Positive Approaches Fellow, Andrew is working to develop strategic frameworks to transform food, agriculture and land use systems into net carbon sinks. Before joining Conservation International, Andrew worked at the World Resources Institute, where he co-authored several reports about restoration economics and finance, tackling themes such as emerging business models in the restoration economy and key barriers — and solutions — to developing restoration finance. Andrew is exploring regenerative food and land use systems that could be introduced across multiple jurisdictions, delivering positive environmental, social and economic returns. He received his master's degree from Yale University and completed his undergraduate work at McGill University.
&copy Courtesy of Yvonne Lui
"The environmental issues the world faces require a special class of leaders:
Innovative thinkers who can apply their unique aptitudes, experiences and passions to help change the world and carve a new path to sustainability. I am pleased to establish the Lui-Walton Innovators Fellowship Program at Conservation International, alongside Melani and Rob Walton, to embolden Conservation International's efforts to provide the sustainability solutions our global community seeks."
— Yvonne Lui
&copy Walmart Corporate
"With the world population projected to reach 9 billion in the next forty years, doubling our demand for food, water and energy, we must nurture ingenuity, initiative and talent to ensure these vital natural resources and the services they provide are protected. Melani and I are delighted to join Yvonne in welcoming the first class of Lui-Walton Innovator Fellows to Conservation International. This group's skills and ideas will have a lasting impact on our ability to solve the conservation challenges of today and tomorrow."
— Rob Walton