For decades, scientists and conservationists have warned of the devastating consequences of land conversion and climate change on biodiversity, economies, and human well-being in Amazonia1 and the world. Agricultural expansion is accelerating, and the region is experiencing a long-term drying trend due to climate change. This allows for more land under production that is destined to burn season after season and increases the risk of agricultural fires to burn out of control, further degrading the natural ecosystems. Here we present the 2021 Amazon fire season in near real-time using NASA satellites and displayed in the context of land cover and governance. You can use the on-demand analytics section below to summarize the data and start investigating the patterns of these fires.
How do I use the map?
Tip 1: Zoom in and out of the map to explore fires detected by NASA's satellites2. Choose a specified date range and select the 'query fire points' button.
Tip 2: Use the drop-down menus to select fire points by country and sub-national jurisdiction or management type (protected areas or Indigenous lands).
Tip 3: Use the check boxes to see the fires in the context of biome or forest frontier categories.
Tip 4: For further analysis, use the advanced feature section to add fire detections from additional satellites and filter by confidence3 of fire detections.
Fire risk, by region
Regional predictions based on drought risks indicate a lower risk of forest fires consuming the Amazon during the 2021 season, with the exception of Santa Cruz, Bolivia. However, finer-scale drought monitoring from the Global Wildfire Information System shows elevated fire risk in the southern Amazon including Santa Cruz, Bolivia and the Pantanal. In addition, an uptick in illegal deforestation in the Brazilian Amazon could bring an increase in fires that are set intentionally to clear newly logged areas. Drier conditions are associated with more fire detections from satellites and larger areas burned due to fire size and the increased risk of uncontrolled spread. Driven by climate change, high temperatures mixed with drier conditions could have potentially dire consequences for the health and livelihoods of people who live in these areas, especially indigenous peoples.
Tip: Hover your mouse over the radial dials of fire season severity predictions to compare dryness predictions for this season compared to the average conditions (50).
Fire Season Severity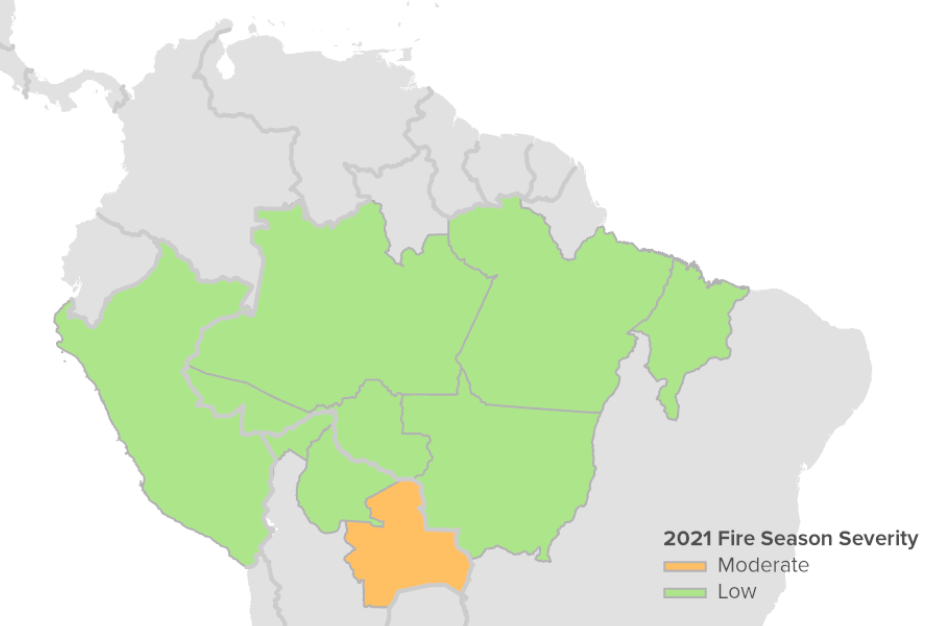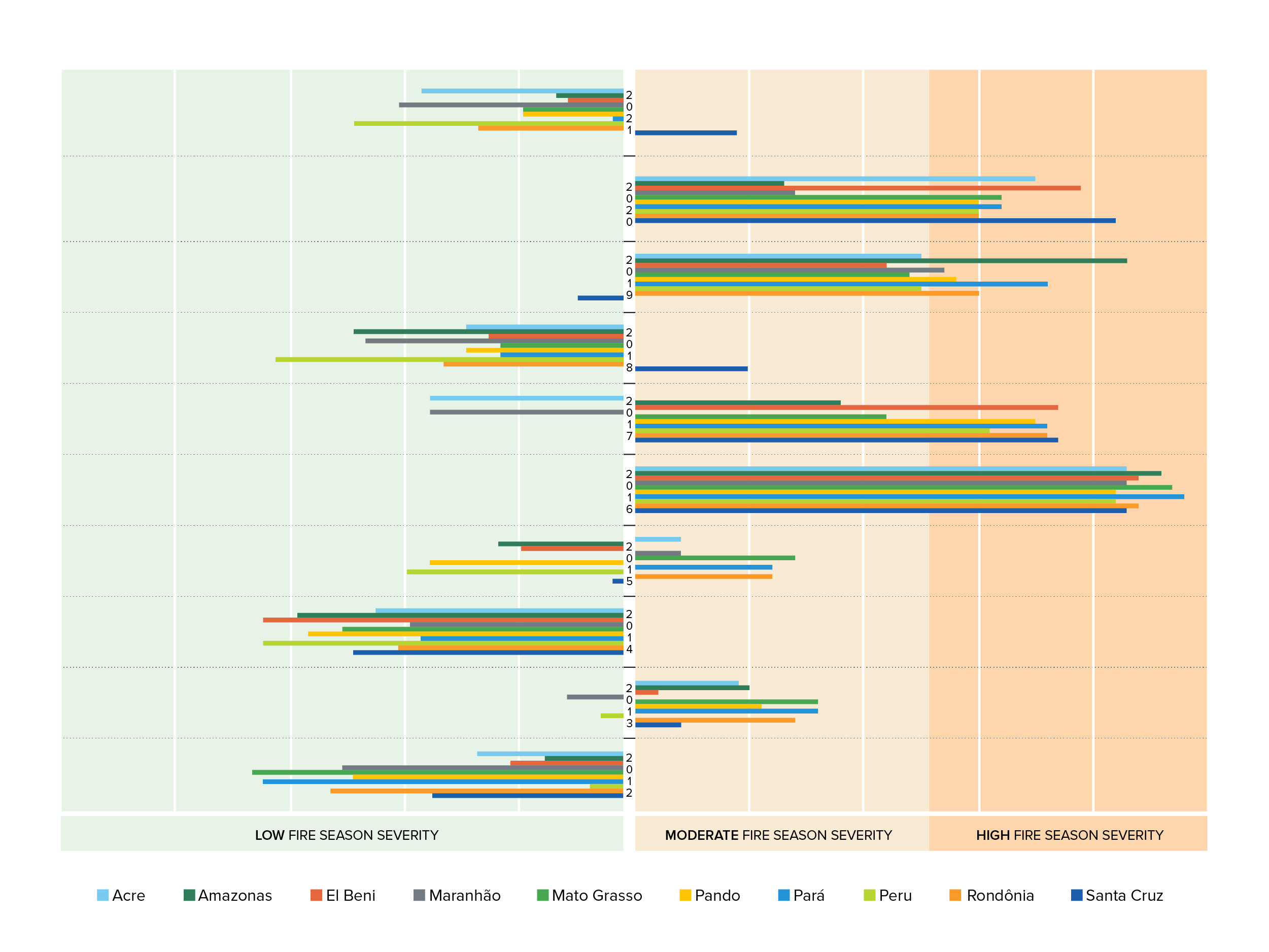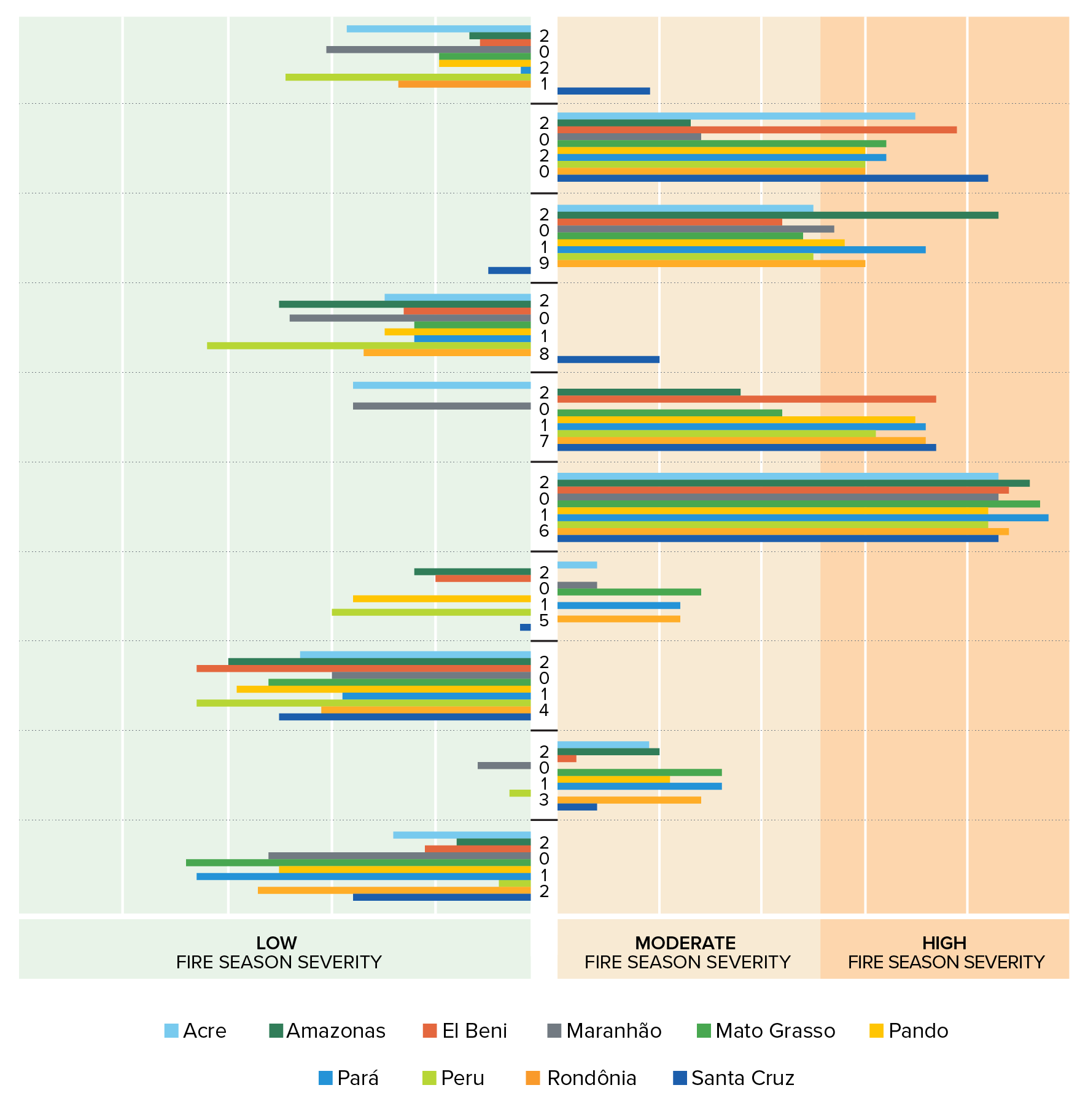 Fire season severity predictions for 2012–2021.
The Fire Season Severity (FSS) forecasts are modeled from the empirical relationship between of SST's in the Atlantic and Pacific and fire incidences across South America (Chen et al. 2011). The values for FSS (indicated at the bottom of the radial dials) are the projected percentile distribution of fire activity in the upcoming year compared to the historical average. A 50th percentile FSS is average, 90th percentile is an extremely high fire activity year, and 10th percentile is an extremely low fire season severity year. More information on the forecasting methods, associated scientific publications, and alerts for different regions are available
here
.
How should I use the dashboard?
Tip 1: Select your preferred country, and management type if desired. Additionally, select your desired timeframe.
Tip 2: Choose to view all fires, view only fires with nominal and high confidence, or view only fires with high confidence3
Tip 3: Once submit is clicked, analytics for your area of interest will be processed and displayed. These include fire counts, fire by area, historical fire trends, cluster map, and weekly fires by landcover for the area.
We define the extent of Amazonia based on biome extent from the MapBiomas Amazonia Project - Collection 2.0 of Pan-Amazonian Annual Land Cover & Land Use Map Series for all countries except Brazil, where we adjusted the Brazilian biome extent using the Brazilian Institute of Geography and Statistics' Classification of Biomes of Brazil
The map displays fire directions from NASA's MODIS satellites by default. NASA/NOAA VIIRS satellite is another source of active fire data available to browse on this site. Learn more about MODIS and VIIRS active fire data.
We define nominal confidence as 30% to 79% confidence for MODIS active fire data and fires labeled 'nominal confidence' for VIIRS data. High confidence is 80% or greater for MODIS active fire and fires labeled 'high confidence' for VIIRS. Learn more about confidence and accuracy of fire detections.