To prevent irreversible harm to Earth's life-support systems, humanity must emit less climate-warming greenhouse gases, including carbon dioxide, while also removing excess carbon from the atmosphere. This will require an urgent and large-scale transition to clean and renewable sources of energy. But even if the world stopped using fossil fuels completely, we would fail to avert a worst-case scenario if we did not also reverse the destruction of ecosystems such as forests that absorb and store carbon.
In other words: No matter what, if we don't protect and restore nature, we will fail to prevent catastrophic climate breakdown.
Natural climate solutions are at the heart of Conservation International's work. These are actions that conserve, restore or improve the use or management of ecosystems while maintaining their capacity to absorb and store carbon from the atmosphere. Nature could get us at least 30 percent of the way to solving the climate crisis, while also providing a host of additional benefits — filtering fresh water, providing breathable air — that other approaches to climate change don't offer.
Even better: Nature can do this today — for free.
Where humanity needs to be by 2030
Leading scientists have identified the global need to avoid 5 gigatons of carbon dioxide (CO2) emissions per year by preventing the destruction of high-carbon ecosystems, and to remove 5 additional gigatons of CO2 per year through the restoration and sustainable management of the landscapes that serve as Earth's natural "carbon sinks" by 2030.
What we are doing about it
Our strategy focuses on ensuring that natural ecosystems are worth more alive than dead. Deforestation rates have climbed in recent years — with short-term economic interests outweighing the long-term value of forests. Conservation International's work aims to replace an extractive economy with a regenerative one through innovation, collaboration and by partnering with Indigenous peoples and local communities.
Together, we are:
Working with businesses and governments to minimize deforestation by addressing its largest drivers, particularly agricultural expansion.
Identifying and mapping high-carbon ecosystems such as mangroves, tropical peatlands, and old-growth tropical forests that, once lost, are extraordinarily difficult to replace.
Leveraging philanthropic funding by guiding public and private investments to initiatives such as REDD+ (Reducing Emissions from Deforestation and forest Degradation), a UN-backed approach to fight climate change by conserving forests.
Developing methods to increase the return on investment in tropical reforestation, making it more attractive for governments and private investors.
Supporting local and Indigenous communities to protect forests on their lands.
Mainstreaming and maximizing nature's role for achieving climate goals in national and international climate actions.
Conservation International aims to:
Avoid 2+ gigatons of CO2 emissions through the avoided loss and conservation of high-carbon ecosystems such as peat, mangroves and old-growth forests. This will require preventing the loss of 3.3 million hectares of forest and protecting a much larger area.
Remove another 1+ gigaton of CO2 through restoration and sustainable management of natural ecosystems by 2025. That will require the restoration of 35 million hectares of land.
Secure 13 percent of the ecosystems that are storing the planet's "irrecoverable carbon" — approximately 120 million hectares. These critical ecosystems contain a generation's worth of carbon and are vulnerable to human activity.
Ensure all mangroves are included in countries' climate action commitments, known as Nationally Determined Contributions, and are protected and/or covered under a sustainable financing mechanism, with the aim of increasing mangrove forests worldwide by 20 percent by 2030.
Ensure tropical countries' climate commitments reflect at least 50 percent of national mitigation potential for natural climate solutions. Help at least 30 countries enact policies that maximize natural climate solution potential.
Develop projects to capture 200 megatons of CO2, and increase available financing for natural climate solutions by US$ 10 billion, with a particular focus on high-emitting sectors.
Irrecoverable Carbon
To avoid the catastrophic consequences of climate breakdown, there are certain places we simply cannot afford to destroy. These ecosystems contain more than 260 billion tons of "irrecoverable carbon," most of which is stored in mangroves, peatlands, old-growth forests and marshes. If released, these vast stores of living carbon would be impossible to recover by the middle of the century, which is when the world needs to reach net-zero emissions to avoid a climate disaster.
Conservational International scientists are leading a team of globally renowned experts to determine where these carbon stocks are, whether they are threatened by human activities and how quickly the stocks could be recovered if lost — creating a global map of irrecoverable carbon in Earth's ecosystems.
Informed by this pioneering research, Conservation International is undertaking an ambitious initiative to protect 120 million hectares (nearly 300 million acres) of ecosystems — an area larger than Colombia — containing high amounts of irrecoverable carbon by 2025. 
On the ground
Conservation International is hard at work
Chyulu Hills, Kenya
Conservation International is working to restore tens of thousands of hectares of grasslands in Kenya's Chyulu Hills, which will protect wildlife, support the livelihoods of the Maasai people and remove carbon from the atmosphere. By scaling this cost-effective approach, up to 900 million hectares (2.2 billion acres) of degraded shrub and grass lands could be restored to natural savanna, benefiting people and wildlife, and potentially sequestering billions of tons of carbon dioxide each year.
Alto Mayo, Peru
Despite its protected status, Peru's Alto Mayo Protected Forest — a swath of Amazonian rainforest twice the size of New York City — has seen some of the country's highest rates of deforestation, fueled by agriculture and illegal logging. Conservation International is helping to provide local farmers with economic alternatives to deforestation, as well as benefits such as agricultural training, improved cookstoves and educational materials. These agreements have been partially funded through carbon credits, a critical tool for reducing deforestation and supporting sustainable development.
Bajo Madidi Municipal Conservation and Management Area, Bolivia
With support from Conservation International, the Bolivian municipality of Ixiamas established the 1.5-million-hectare (3.7-million-acre) Bajo Madidi Municipal Conservation and Management Area. A critical part of Conservation International's climate strategy is centered around increasing the protection of carbon-rich forests in the Amazon — benefiting nature, climate and communities.
Cispatá, Colombia
Along the northern edge of Colombia's Caribbean coast, Conservation International is directly preventing the loss of 9,600 hectares (nearly 24,000 acres) of mangrove forests and actively restoring an additional 1,800 hectares (about 4,500 acres). Mangroves store more carbon per unit area than any other ecosystem on Earth while protecting coastal communities from the devastating impacts of climate change, including sea-level rise and severe storms.
Related conservation news from the field
When COVID flattened tourism, carbon credits kept these African hills 'green'
The pandemic cratered ecotourism in Africa last year, depriving local communities of life-sustaining revenues. However, the people of Chyulu Hills in southeast Kenya were able to tell a different story — and make a number of investments toward their futures. Here's how.
The pandemic took lives. In many places, it also took livelihoods.
COVID-19 lockdowns and travel restrictions cratered ecotourism in Africa in 2020, depriving local communities of life-sustaining revenues. As a result, poaching surged across the continent — driven by desperation for food and income, or by profit, and exacerbated by weakened enforcement efforts, experts have said.
However, the people of Chyulu Hills in southeast Kenya — said to be the inspiration for Ernest Hemingway's "Green Hills of Africa" — were able to tell a different story.
Even as the pandemic spread across Africa last year, local governments and communities in this region generated enough revenue to hire additional rangers to crack down on poaching — and made a number of other investments in their own long-term food security, health and well-being.
How? By protecting and restoring forests.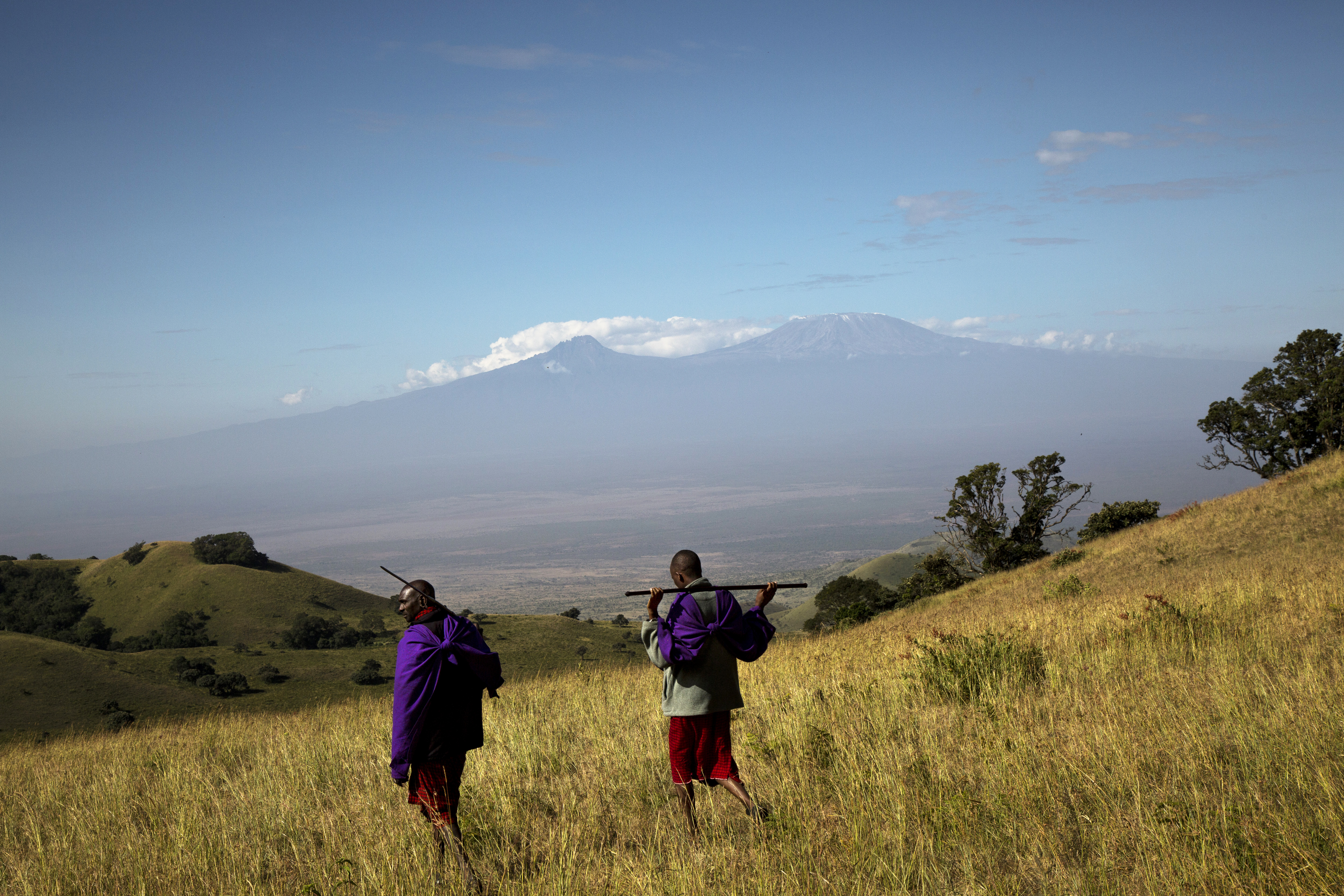 Muli and Matasha, Maasai guides who work with the Maasai Wilderness Conservation Trust, make their way down from the cloud forest atop of the Chyulu Hills with Mount Kilimanjaro. (© Charlie Shoemaker)
In 2017, the Chyulu Hills region became verified as a REDD+ project — a United Nations-backed initiative that provides financial incentives for communities, regions and countries to keep forests intact, thereby preventing carbon emissions caused by deforestation. Revenues for the project come from the sale of carbon credits, which represent a reduction in greenhouse gas emissions that countries, companies or individuals can purchase to compensate for emissions made somewhere else.
---
Since its creation, the Chyulu Hills REDD+ project has helped conserve and restore 404,000 hectares (1 million acres) of land, protecting iconic species such as elephants and rhinos and preventing the release of around 37 million metric tons of carbon emissions. It has also helped stimulate local economies; the sale of carbon credits generated more than US$ 3 million in 2020 alone.
According to Andrey Arutyunyan, a REDD+ manager for MWCT, this steady stream of income from the sale of carbon credits — both before and during the pandemic — has been "transformational" for local communities, including Indigenous Maasai pastoralists and Kamba agriculturalists.
"In the past, NGOs or other organizations have often come in and tried to tell communities what they need," he said.
"The Chyulu Hills REDD+ project is different. The communities are making the final decisions on how profits from carbon credits are used based on their priorities. The impacts have been life-changing."
To provide for their families, many people living in Chyulu Hills historically turned to destructive practices like slash-and-burn farming and poaching.
Luckily, the Chyulu Hills REDD+ project offered a "sweet" alternative: Beekeeping for honey.
"We have worked with communities in both the eastern and western regions of Chyulu Hills to help them set up their own beekeeping farms," said Wilbur Mutua, who runs the beekeeping program for MWCT. "These farms produce honey that people can either sell, apply for medicinal purposes or use to put food on the table for their families. Around here, with honey available, you know you are not going to sleep on an empty stomach."
A colonized hive established by MWCT's beekeeping program and supported by the REDD+ project, Chyulu Hills, (© Maasai Wilderness Conservation Trust)
So far, the Chyulu Hills REDD+ project has helped establish more than 630 beehives across the region. Along with providing jobs for community members — particularly women, who have historically lacked job opportunities in this region — the increase in pollinators has also helped boost crop growth in farms and support restoration in the surrounding savannas and forests.
An added bonus? The bees help reduce conflicts between humans and elephants across Chyulu Hills.
"Elephants aren't big fans of bees, so setting up beehives along fences around a farm or house keeps elephants away without harming them," Mutua said.
Getting 'schooled' on conservation
Crowded classrooms. Dilapidated bathrooms. Run-down facilities.
Before the REDD+ project began, these were the conditions many children in Chyulu Hills endured if they wanted an education, explained Charity Lanoi Meitekini, the team leader of the livelihoods program at MWCT, which helps women in the region find jobs and gain financial independence.
"Most of the schools were densely overpopulated, with students outnumbering teachers by 50 to one," she added. "Without enough funding, schools were simply not able to support the number of children who were eager to learn."
To address these gaps, part of the revenue generated from the sale of REDD+ carbon credits has been funneled directly into improving education for the children of Chyulu Hills. Over the past two years, the program has funded the salaries of seven new teachers — along with a new cook, community health worker and four new cleaners. Additionally, funding has helped to renovate multiple schools and build new latrines.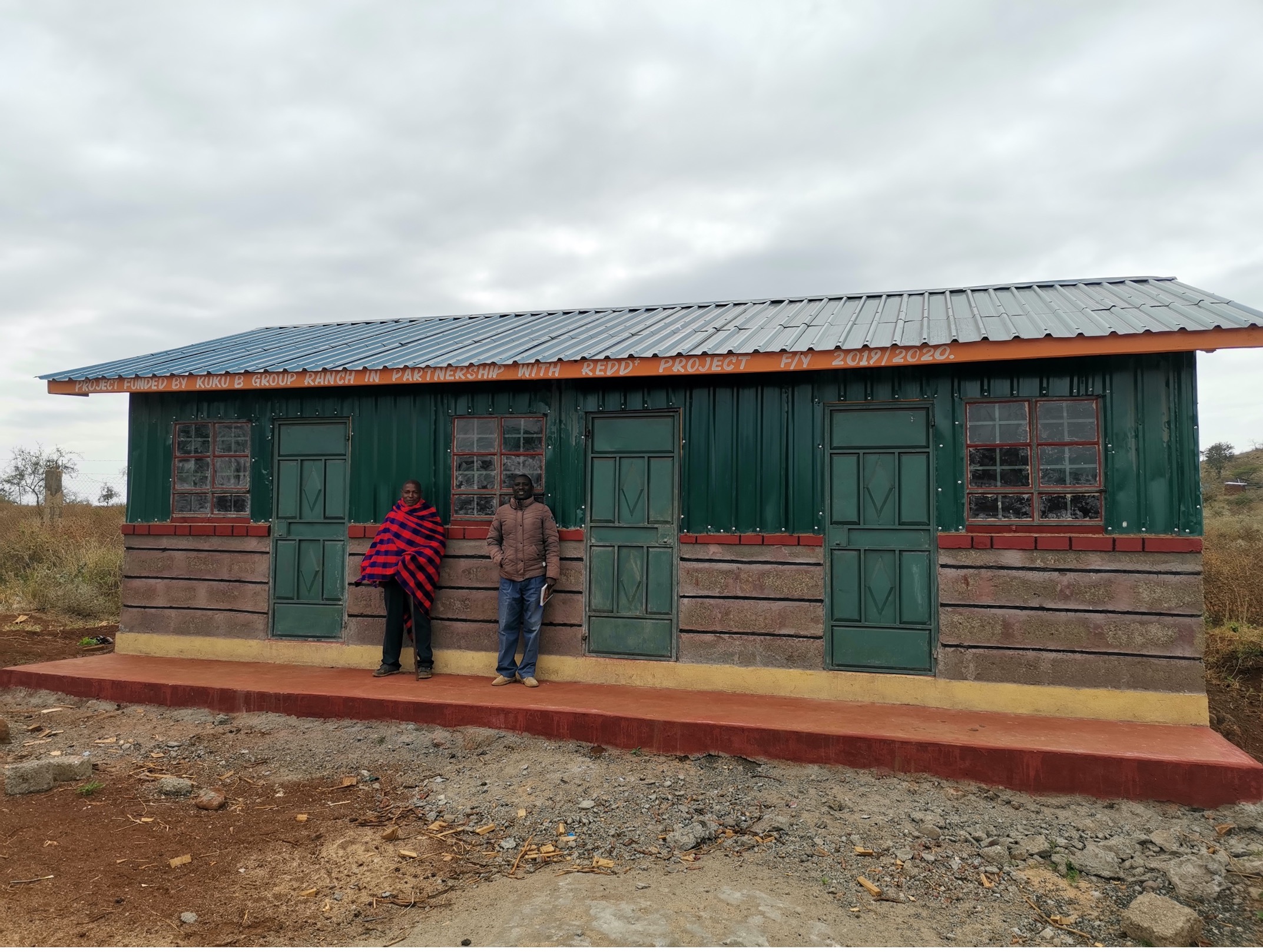 Renovated school staff quarters in Maralal, Kenya. (© Maasai Wilderness Conservation Trust)
For the families who were unable to afford school fees, the program has supported full or partial scholarships for more than 400 children across the region.
"All of these efforts were high priorities for the communities," Meitekini explained. "With access to education, students are more likely to achieve their goals."
And learning hasn't been limited to schools. Community outreach programs and radio broadcasts funded by the REDD+ program have helped educate local communities on the importance of protecting nature — for people and the climate.
"REDD+ has helped equip local communities with the tools they need to protect nature. It offers alternative livelihoods that do not involve the destruction of forests and helps prepare our youth for the future," Arutyunyan said.
"The benefits of this project — particularly during the pandemic — show that if you take care of nature, then nature will take care of you."
Kiley Price is a staff writer at Conservation International. Want to read more stories like this? Sign up for email updates here. Donate to Conservation International here.
Cover image: The Chyulu Hills (© Charlie Shoemaker for Conservation International)
---
Related peer-reviewed science
Protect Nature
Just announced: Every dollar 3X MATCHED, up to $16,500, to support sustainable development that helps communities thrive economically while protecting nature