To prevent irreversible harm to Earth's life-support systems, humanity must emit less climate-warming greenhouse gases, including carbon dioxide, while also removing excess carbon from the atmosphere. This will require an urgent and large-scale transition to clean and renewable sources of energy. But even if the world stopped using fossil fuels completely, we would fail to avert a worst-case scenario if we did not also reverse the destruction of ecosystems such as forests that absorb and store carbon.
In other words: No matter what, if we don't protect and restore nature, we will fail to prevent catastrophic climate breakdown.
Natural climate solutions are at the heart of Conservation International's work. These are actions that conserve, restore or improve the use or management of ecosystems while maintaining their capacity to absorb and store carbon from the atmosphere. Nature could get us at least 30 percent of the way to solving the climate crisis, while also providing a host of additional benefits — filtering fresh water, providing breathable air — that other approaches to climate change don't offer.
Even better: Nature can do this today — for free.
Where humanity needs to be by 2030
Leading scientists have identified the global need to avoid 5 gigatons of carbon dioxide (CO2) emissions per year by preventing the destruction of high-carbon ecosystems, and to remove 5 additional gigatons of CO2 per year through the restoration and sustainable management of the landscapes that serve as Earth's natural "carbon sinks" by 2030.
What we are doing about it
Our strategy focuses on ensuring that natural ecosystems are worth more alive than dead. Deforestation rates have climbed in recent years — with short-term economic interests outweighing the long-term value of forests. Conservation International's work aims to replace an extractive economy with a regenerative one through innovation, collaboration and by partnering with Indigenous peoples and local communities.
Together, we are:
Working with businesses and governments to minimize deforestation by addressing its largest drivers, particularly agricultural expansion.
Identifying and mapping high-carbon ecosystems such as mangroves, tropical peatlands, and old-growth tropical forests that, once lost, are extraordinarily difficult to replace.
Leveraging philanthropic funding by guiding public and private investments to initiatives such as REDD+ (Reducing Emissions from Deforestation and forest Degradation), a UN-backed approach to fight climate change by conserving forests.
Developing methods to increase the return on investment in tropical reforestation, making it more attractive for governments and private investors.
Supporting local and Indigenous communities to protect forests on their lands.
Mainstreaming and maximizing nature's role for achieving climate goals in national and international climate actions.
Conservation International aims to:
Avoid 2+ gigatons of CO2 emissions through the avoided loss and conservation of high-carbon ecosystems such as peat, mangroves and old-growth forests. This will require preventing the loss of 3.3 million hectares of forest and protecting a much larger area.
Remove another 1+ gigaton of CO2 through restoration and sustainable management of natural ecosystems by 2025. That will require the restoration of 35 million hectares of land.
Secure 13 percent of the ecosystems that are storing the planet's "irrecoverable carbon" — approximately 120 million hectares. These critical ecosystems contain a generation's worth of carbon and are vulnerable to human activity.
Ensure all mangroves are included in countries' climate action commitments, known as Nationally Determined Contributions, and are protected and/or covered under a sustainable financing mechanism, with the aim of increasing mangrove forests worldwide by 20 percent by 2030.
Ensure tropical countries' climate commitments reflect at least 50 percent of national mitigation potential for natural climate solutions. Help at least 30 countries enact policies that maximize natural climate solution potential.
Develop projects to capture 200 megatons of CO2, and increase available financing for natural climate solutions by US$ 10 billion, with a particular focus on high-emitting sectors.
Irrecoverable Carbon
To avoid the catastrophic consequences of climate breakdown, there are certain places we simply cannot afford to destroy. These ecosystems contain more than 260 billion tons of "irrecoverable carbon," most of which is stored in mangroves, peatlands, old-growth forests and marshes. If released, these vast stores of living carbon would be impossible to recover by the middle of the century, which is when the world needs to reach net-zero emissions to avoid a climate disaster.
Conservational International scientists are leading a team of globally renowned experts to determine where these carbon stocks are, whether they are threatened by human activities and how quickly the stocks could be recovered if lost — creating a global map of irrecoverable carbon in Earth's ecosystems.
Informed by this pioneering research, Conservation International is undertaking an ambitious initiative to protect 120 million hectares (nearly 300 million acres) of ecosystems — an area larger than Colombia — containing high amounts of irrecoverable carbon by 2025. 
On the ground
Conservation International is hard at work
Chyulu Hills, Kenya
Conservation International is working to restore tens of thousands of hectares of grasslands in Kenya's Chyulu Hills, which will protect wildlife, support the livelihoods of the Maasai people and remove carbon from the atmosphere. By scaling this cost-effective approach, up to 900 million hectares (2.2 billion acres) of degraded shrub and grass lands could be restored to natural savanna, benefiting people and wildlife, and potentially sequestering billions of tons of carbon dioxide each year.
Alto Mayo, Peru
Despite its protected status, Peru's Alto Mayo Protected Forest — a swath of Amazonian rainforest twice the size of New York City — has seen some of the country's highest rates of deforestation, fueled by agriculture and illegal logging. Conservation International is helping to provide local farmers with economic alternatives to deforestation, as well as benefits such as agricultural training, improved cookstoves and educational materials. These agreements have been partially funded through carbon credits, a critical tool for reducing deforestation and supporting sustainable development.
Bajo Madidi Municipal Conservation and Management Area, Bolivia
With support from Conservation International, the Bolivian municipality of Ixiamas established the 1.5-million-hectare (3.7-million-acre) Bajo Madidi Municipal Conservation and Management Area. A critical part of Conservation International's climate strategy is centered around increasing the protection of carbon-rich forests in the Amazon — benefiting nature, climate and communities.
Cispatá, Colombia
Along the northern edge of Colombia's Caribbean coast, Conservation International is directly preventing the loss of 9,600 hectares (nearly 24,000 acres) of mangrove forests and actively restoring an additional 1,800 hectares (about 4,500 acres). Mangroves store more carbon per unit area than any other ecosystem on Earth while protecting coastal communities from the devastating impacts of climate change, including sea-level rise and severe storms.
Related conservation news from the field
As pandemic pounded Peru, one region thrived on coffee, carbon
Across Peru, the COVID-19 pandemic has left millions without jobs. But in the Alto Mayo Protected Forest, where the Amazon meets the Andes, coffee farmers were spared much of the economic devastation that gripped Peru's cities and towns.
Editor's note: View this post in Spanish here.
This post was updated on May 5, 2021.

Across Peru, the COVID-19 pandemic has left millions without jobs — battering the economy, draining public coffers and buffeting high-grossing industries, from mining to tourism.
But in the Alto Mayo Protected Forest, where the Amazon meets the Andes, coffee farmers were spared much of the economic devastation that gripped Peru's cities and towns.
In fact, farmers in the remote forest had a banner year, exporting 336 tons of organic and fair-trade coffee to Europe, New Zealand and the United States in 2020 — fully one-third more than the previous year.
"We never stopped working, even with all the disruptions," said Gricerio Carrasco, a leader of the 460-member Cooperative of Producers of the Alto Mayo Forest (COOPBAM). "There were orders to fill, and we didn't want to disappoint our buyers."
Carrasco and other farmers were buoyed by a longstanding United Nations-backed program known as REDD+, which offers financial incentives for communities, regions and countries to keep forests intact and prevent climate-warming carbon emissions caused by deforestation.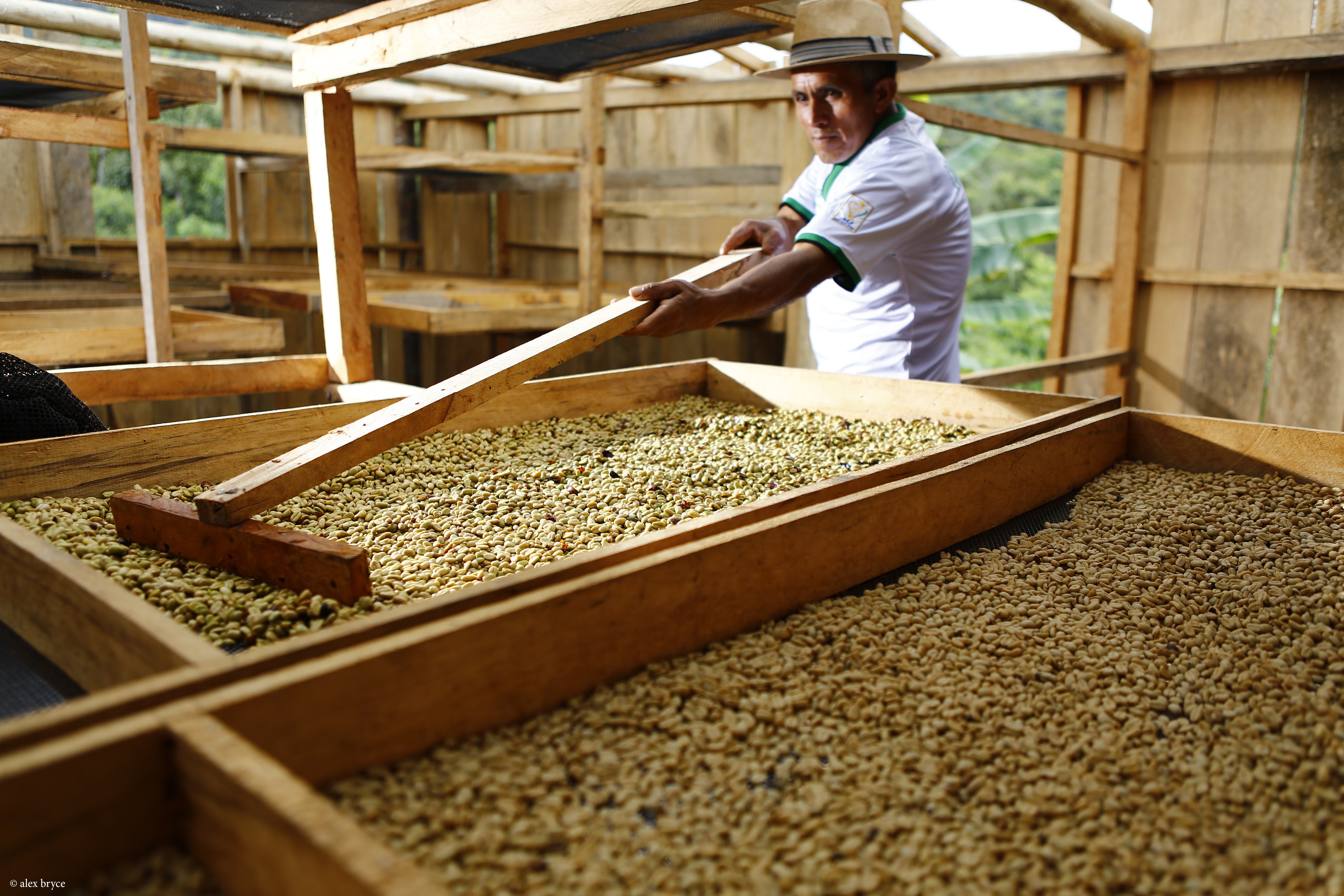 Members of the Cooperative of Producers of the Alto Mayo Forest (COOPBAM) commit to zero net deforestation. (© Alex Bryce)
Supported by Conservation International, in partnership with local communities and the Peruvian government, the Alto Mayo REDD+ initiative uses proceeds from the sale of carbon credits to finance voluntary conservation agreements. The pacts aim to galvanize community support. They provide coffee growers living in the protected forest with agricultural training, financial skills and access to specialty-grade coffee markets. In exchange, the farmers commit to zero net deforestation.
During the pandemic, funds from the carbon credits provided a lifeline for conservation — and the families who live in the forest.
"Situations like Covid highlight the importance of this type of financing mechanism," said Conservation International's Braulio Andrade, who has managed the Alto Mayo REDD+ project for the past decade.
"The carbon credits provide financial stability, which allows families in this area to be much more resilient," he added. "Without this support, people might have had to turn to illicit activities, like selling rare forest plants or orchids, as they did in other areas."
Stopping the cycle of deforestation
Located in the San Martín region of Peru, the Alto Mayo Protected Forest spans 182,000 hectares (450,000 acres) — an area twice the size of New York City. The tropical forest is home to endangered animals and plants, and protects streams that supply water to 265,000 people in the Alto Mayo basin.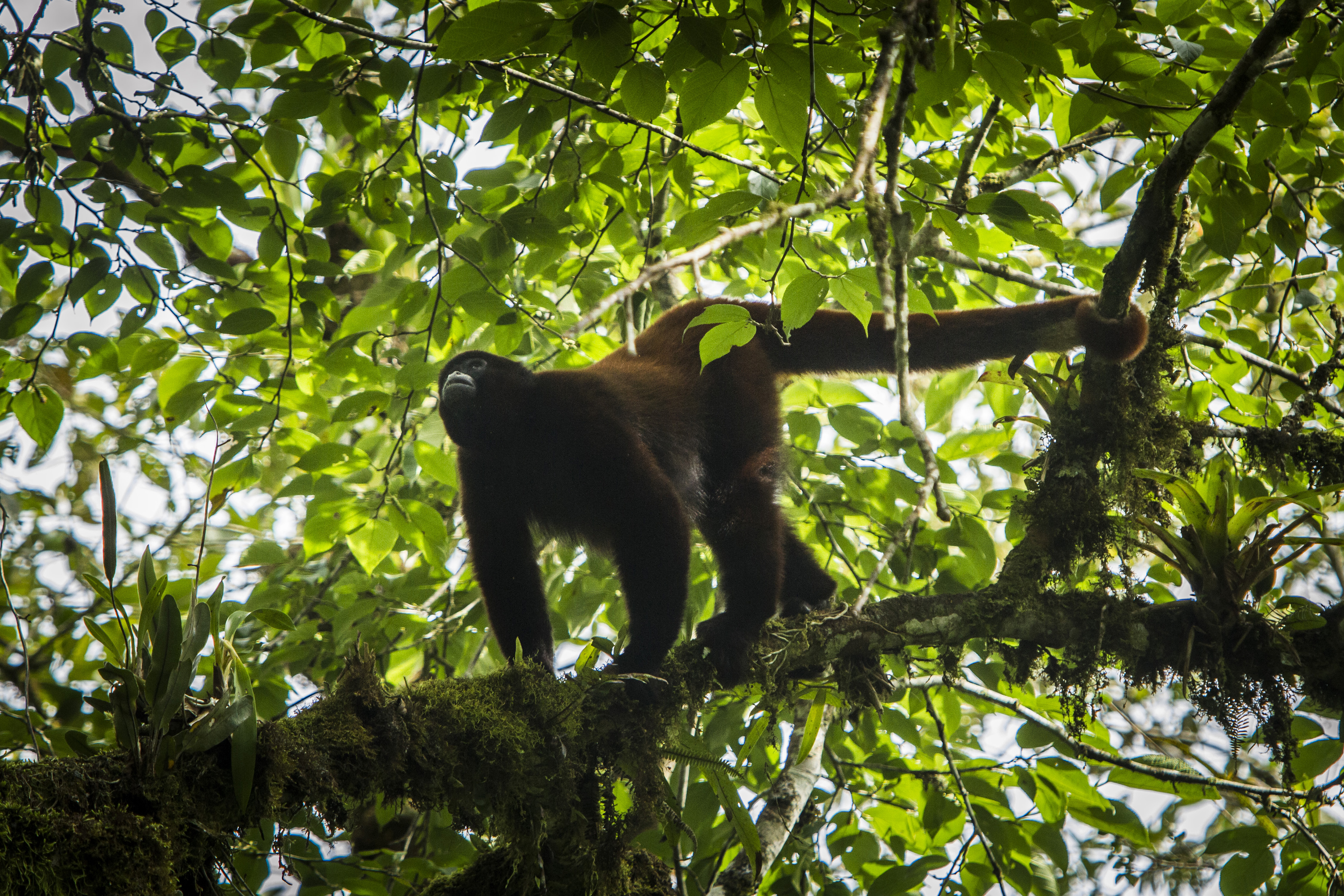 The Alto Mayo Protected Forest is home to Peru's largest primate, the critically endangered yellow-tailed woolly monkey. (© Alex Bryce)
Despite its protected status, the forest saw some of the highest deforestation rates in Peru, due largely to agricultural encroachment, unsustainable coffee farms and illegal logging.
To help stop this cycle, Conservation International and local partners sought to place an economic value on the forest's services, recognizing its ability to mitigate climate change, supply fresh water and provide local communities with sustainable livelihoods.
In 2012, the REDD+ project in the Alto Mayo Protected Forest was successfully validated under the Verified Carbon Standard and Climate, Community and Biodiversity Standards through an independent audit. Over the past nine years, the project has generated US$ 38 million, channeling funds from carbon credits purchased by wealthy countries and corporate backers directly into this northern pocket of Peru.
"About 99.9 percent of the costs for managing this protected area come from REDD+," Andrade said. "That's everything from employing technical experts and social workers, who support the conservation agreements, to paying forest rangers' salaries and buying the gasoline that powers their vehicles."
As of June 2020, the project had helped cut deforestation in the protected area by more than half, avoiding 8.4 million metric tons of greenhouse gas emissions — the equivalent of taking 150,000 cars off the road each year.
Moreover, the sale of carbon credits supports the livelihoods of 1,100 families who have signed on to the conservation agreements. Through agriculture training programs, farmers have boosted coffee yields on land that was already cleared of trees, increasing their productivity — not their environmental footprint.
"Before, we planted coffee any which way we could. And we didn't know how to commercialize it," Carrasco said. "Now we're sustainably producing high-quality beans that command a good price."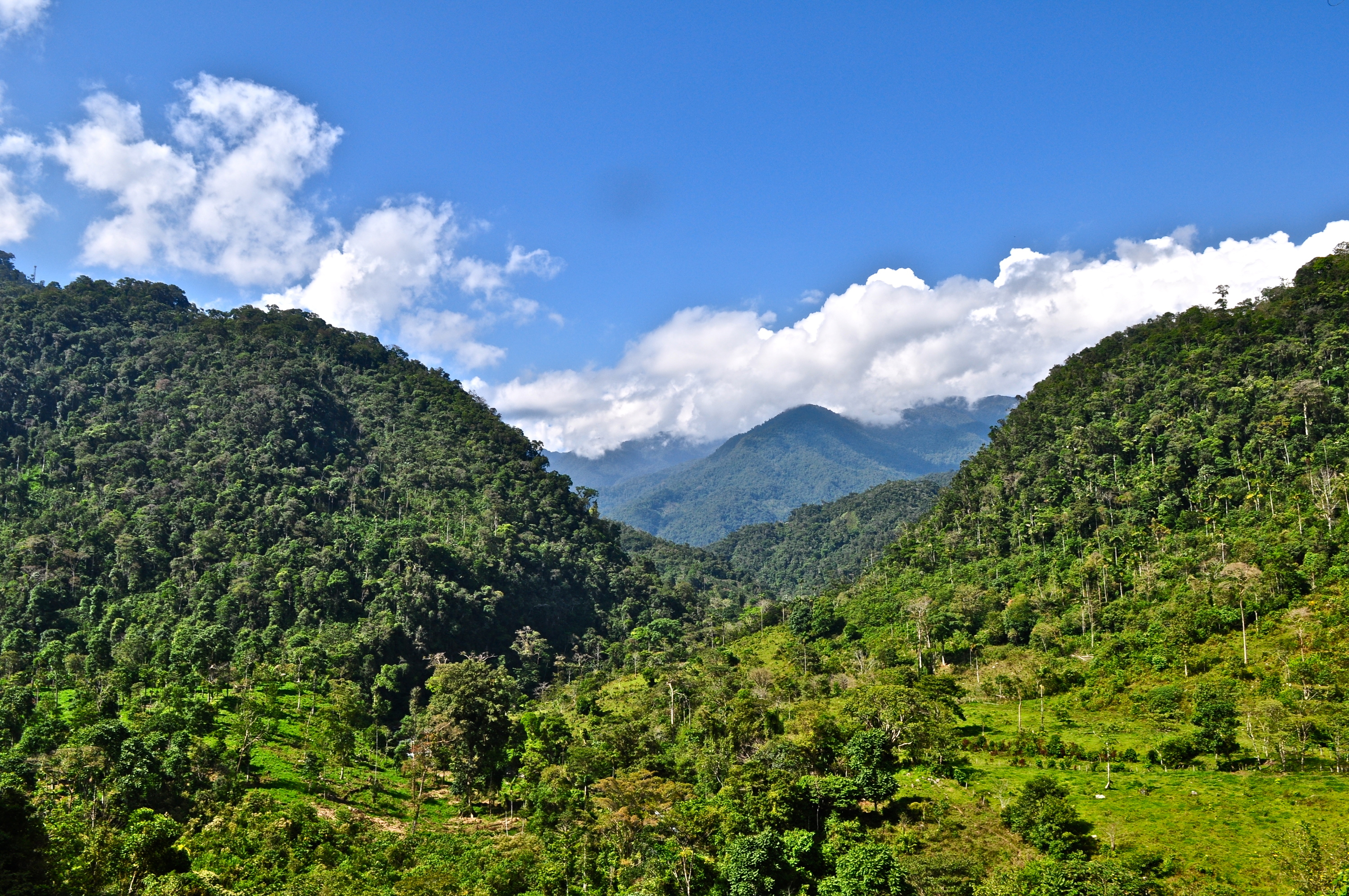 The Alto Mayo Protected Forest spans 182,000 hectares (450,000 acres) — an area twice the size of New York City. (© Alex Bryce)
The conservation agreement model pioneered by Conservation International in Alto Mayo has been so successful that the Peruvian government implemented similar agreements in 35 other protected areas and recently incorporated them as a management tool within its system of national protected areas.
"The aim is to consolidate communities' support for protected areas and help local families reap the benefits that conservation can provide," said Marco Arenas, head of stakeholder engagement for Peru's National Service of Natural Protected Areas. "Over the past decade, conservation agreements have been the key to success in the Alto Mayo Protected Forest. We are looking to build on that success by putting similar agreements in place in other critical ecosystems around the country."
'It's as though we were reborn'
For Carrasco, the skills gained by engaging in Alto Mayo's conservation have been life changing. The oldest of 10 siblings, he never had the opportunity to pursue higher education. But increasing coffee sales through the cooperative meant he was able to provide an education for his 20-year-old son, who graduated from college with a degree in environmental engineering.
On their farm, Carrasco and his family have diversified their crops to include yucca and plantains, ensuring steady income between coffee harvests. And now, the REDD+ project has engaged with a Peruvian company to buy dragon fruit from local farmers. Carrasco recently planted half a hectare of the local varietal, which fetches a good price. His latest enterprise is beekeeping, which he began with technical support and a few hives funded by REDD+ proceeds. As word of his honey has spread in the community, Carrasco has started selling to his neighbors, a few jars at a time.
"I feel proud of what I've accomplished here," Carrasco said. "When we first arrived in Alto Mayo, we didn't know what a protected area was or how to take care of it. With time, the conservation agreements have opened many doors for us. It's as though we were reborn."
Vanessa Bauza is the editorial director at Conservation International. Want to read more stories like this? Sign up for email updates. Donate to Conservation International.
Cover image: Coffee farmers at work in Vilcaniza, Alto Mayo. (© Alex Bryce)
Related peer-reviewed science
Protect Nature
Just announced: Every dollar 3X MATCHED, up to $16,500, to support sustainable development that helps communities thrive economically while protecting nature