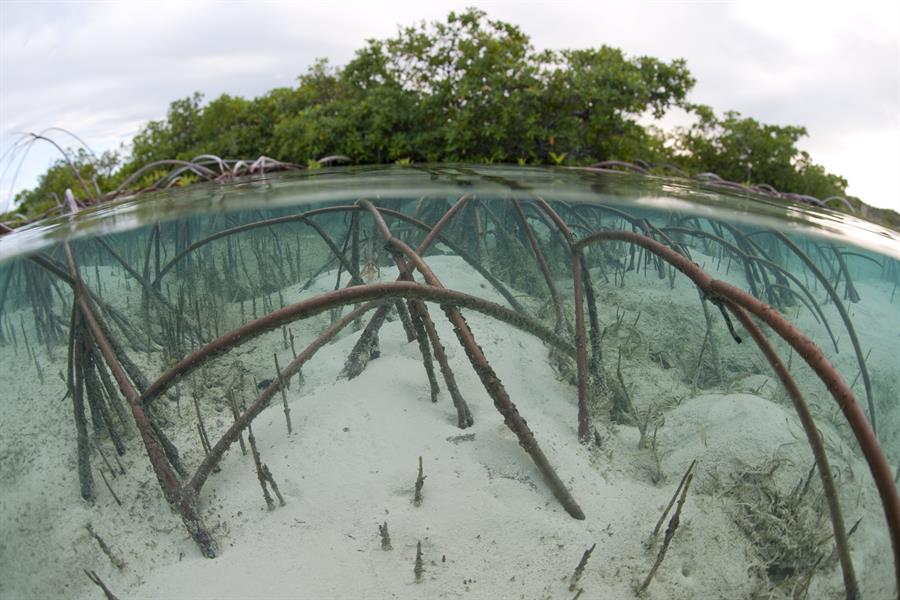 &copy Jeff Yonover
Suriname mangrove rehabilitation project
Suriname's coastal region is extensive and low-lying, and has been identified as highly vulnerable to climate-induced sea level rise in future decades. At Weg naar Zee resort in the district of Wanica, Suriname, well-known as the "vegetable garden" of Paramaribo, human interference has converted mangrove areas to agricultural land, fishing ponds and settlements. From the loss of stabilization provided by mangroves, the coast has become susceptible to flooding and erosion, losing up to 27 meters of land in one year, and has caused displacement of local habitants and loss of livelihoods. The local population of more than 3,000 and its fisheries, farms, and important religious and cultural sites are at risk to frequent flooding and land degradation. No mitigation measures had been undertaken to protect the area prior to the start of this Building With Nature project in 2015.
Successful climate change adaptation
Conservation International Suriname supported Professor Naipal (Anton de Kom University of Suriname) in his Building With Nature Project at Weg naar Zee. This is momentarily the most endangered community by sea level rise in the whole of South America and the Caribbean. Wooden, water penetrable dams are being built to trap sediment and replant mangroves. This project is a successful example of climate change adaptation. (Building with Nature is a technique introduced and successfully implemented in Indonesia by Wetlands International.)
&copy Rôchelle Rijssel
A plan for the future
Conservation International Suriname and the Anton de Kom University of Suriname are planning to assemble 12 more Sediment Trapping Units at the coast of Weg naar Zee with the ultimate goal of stopping land degradation using eco-system based adaptation techniques. Through capacity building and public awareness, the communities of Weg naar Zee and surrounding areas will learn about mangrove restoration and maintenance, and the benefits the human population derive from ecosystem restoration projects. Scientific research will also be conducted with the objectives of improving understanding of the biophysical and socio-economic conditions of the changing coastal landscape and developing research products to inform future nature-based adaptation initiatives.