Programs and Partnerships
© Conservation International/photo by Ginna Tan
Outdoor and Classroom Education
This program aims to connect students to nature through fun and informative classroom activities and talks, as well as immersive outdoor field trips. Students will explore biodiversity conservation in an urban setting, engage in problem solving and acquire skills to make informed and responsible decisions to protect nature.
Since 2017, Conservation International Singapore has worked with more than 120 schools and engaged with approximately 92,000 students on topics such as climate change, marine conservation, mangrove conservation, plastic pollution, deforestation, biodiversity, food waste, freshwater, and green careers.
Contact us to find out more about this program.
© CONSERVATION INTERNATIONAL/PHOTO BY JAMAL JAIS
Virtual Learning
Conservation International Singapore presents a series of fun videos that highlight, explore, and unravel some of the most important environmental issues of our time. Using a global-to-local lens to spotlight climate change, ocean conservation and mangrove conservation, the videos take viewers on a learning journey and are supported with fun activities, quizzes and resources for educators.
Find out more about virtual learning.
© CONSERVATION INTERNATIONAL/PHOTO BY CELINE YEOW
Internships
Conservation International's internship program offers Singapore tertiary students first-hand experience supporting conservation efforts across the Asia-Pacific.
Since 2017, 61 students have contributed to our field conservation, science, communications, and research efforts in Cambodia, Hong Kong, Indonesia, New Caledonia, the Philippines, Samoa, Singapore, and Timor-Leste.
Find out more about internships available.
MAC3 Conservation Scholarship at Conservation International Singapore
In collaboration with MAC3 Impact Philanthropies, this scholarship aims to cultivate postgraduate students in Singapore and guide them toward meaningful careers in nature conservation.
Since 2020, we have had the privilege of supporting 4 scholars, working on academic projects that contribute meaningful research in diverse areas of environmental conservation work, including protecting coastal "blue carbon" and monitoring riparian ecosystems.
Find out more about our MAC3 Conservation Scholars.
Conservation International Scholarship
The Conservation International Scholarship, in partnership with the National University of Singapore, provides a 1-year grant to qualified Asian students enrolled in the Master of Science in Biodiversity Conservation and Nature-based Climate Solutions Program.
Since 2022, we have had the privilege of supporting 4 scholars in acquiring world-class education, capacity-building in high-potential geographies for nature-positive development, and enabling impactful careers dedicated to conservation.
Find out more about our Conservation International Scholars.
Studio Zero
Studio Zero is Conservation International Singapore's network of young climate storytellers who inspire a future of net zero, zero waste and a healthy natural world. In partnership with the National Youth Council Singapore, Studio Zero grants youth climate and nature storytellers access to the world's biggest events, with its debut edition kicking off at The Earthshot Prize awards ceremony.
10 for Zero Awards
Conservation International Singapore is proud to present the 10 for Zero Awards, a celebration of Singapore's environmental youth leaders. The award recognizes the efforts of 10 capable and creative young individuals, aged 18 to 35 years old, advocating for a future of zero waste and net zero carbon emissions.
Science and Innovation Partnerships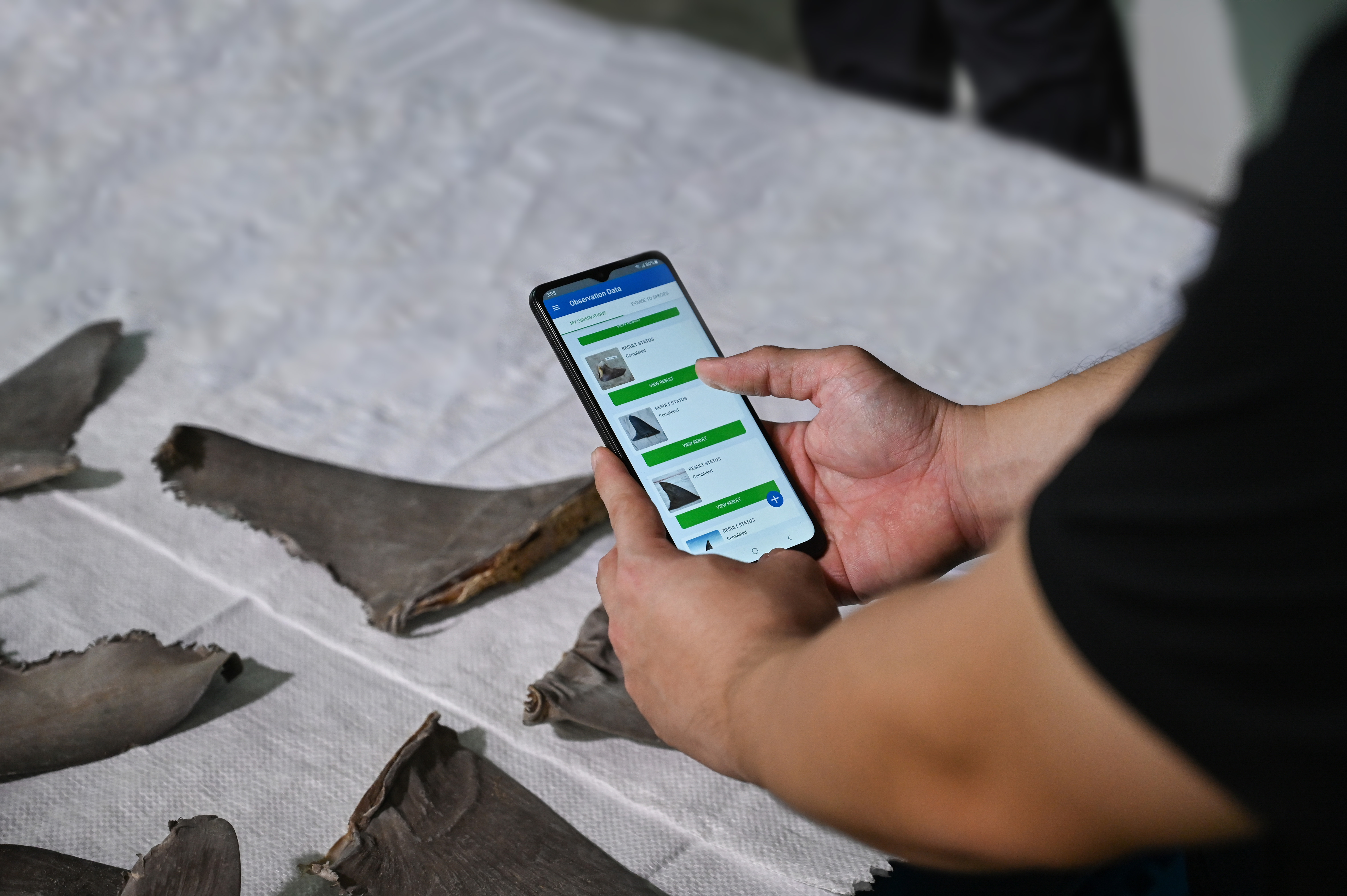 &copy CONSERVATION INTERNATIONAL/PHOTO BY CELINE YEOW
Fin Finder - The World's First AI-based Mobile App for Shark and Ray Fin Identification
Developed by Conservation International by a Singapore-based team, this tool aims to support the country's leadership in the fight against the illegal wildlife trade. Using the Fin Finder app on a mobile phone and with just a snap of a photo of a fin, customs inspectors and National Parks Board (NParks) officers can now flag fins from potentially illegally traded species within seconds which can then be sent for DNA verification. If it's confirmed to be illegal, the authorities can take enforcement action.
Together with NParks, the national CITES (Convention on International Trade in Endangered Species of Wild Fauna and Flora) enforcement agency, we will scale the adoption of Fin Finder around the world to curb the illegal wildlife trade and continually improve the functionality of the app. In addition, we aim to raise public awareness of the illegal wildlife trade within the Singapore community.
Contact us to find out more about our work.

© Saravanan Sinniah
Policy Recommendations for the Singapore Carbon Tax Review
Nature can provide at least 30% of the action needed to mitigate climate change. Yet, natural climate solutions (NCS), such as forests, mangroves, and peatlands, only receive 3% of climate funding.
As the Singapore government prepares for the next phase of its carbon pricing policy, these recommendations can help Singapore to take the lead in the region through policies, capabilities, and infrastructure that enables the use of international carbon credits for compliance across a wide range of sectors including NCS.
Read the carbon tax policy recommendations.
© Conor Wall
Singapore Pangolin Working Group
Conservation International is a leader in scientific research and the development of tools to identify, value, and protect critical species and ecosystems.
As a member of community working groups to protect endangered species such as the Sunda pangolin, Conservation International contributes to national efforts to conserve and educate people about biodiversity and the ecosystems in which they live.
Learn more at the Singapore Pangolin Working Group website.