Whales, like the people of the Pacific Islands, are voyagers across this vast ocean, and are among the most culturally significant species in the Pacific Ocean.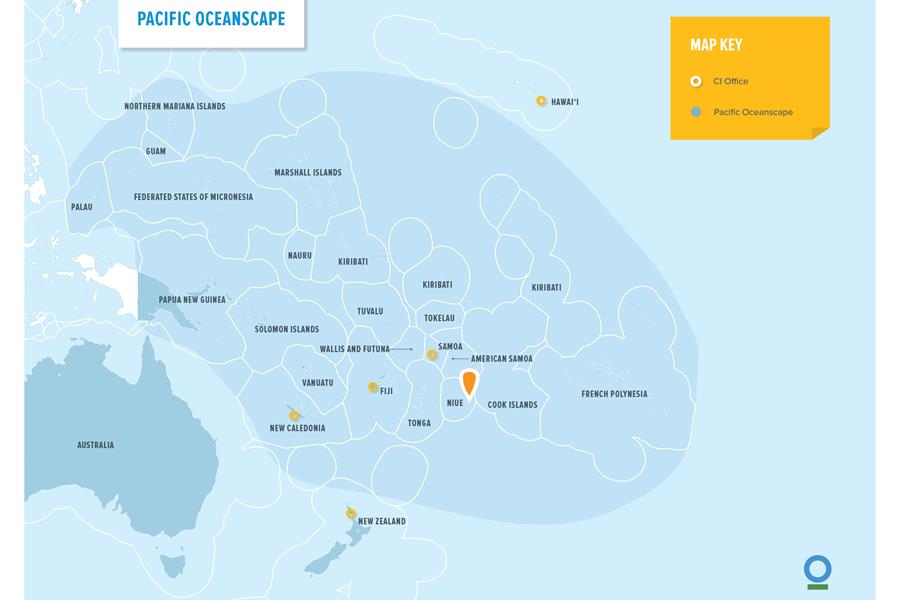 © CI
Located in the South Pacific, Niue is a small island surrounded by the vast Pacific Ocean. Honoring the critical role the ocean plays in the wellbeing and livelihoods of Niuean people, Niue has taken independent steps to conserve and manage their waters. In 2003, they declared their ocean area as a whale sanctuary, which is when our team lead, Olive Andrews, began her work in-country. Recently, the Niue Government in partnership with Tofia Niue, further committed 40% of their ocean territory as a sanctuary and are in the process of marine spatial planning for their entire marine domain through the Niue Ocean Wide project.
Conservation International recently sent a team of specialists to Niue to work with our local partners to study Endangered Oceania humpback whales, a population that's not recovering as fast as others globally and which are the focus of marine tourism activities across the South Pacific. The more we understand about these creatures, the more we can underpin their conservation and management.
This effort comes at a time when half of the world's large whales are classed as Endangered or Vulnerable. Providing effective conservation now is crucial to ensuring these highly intelligent giants of the sea endure. Science, innovation, and partnerships are crucial to our success.
Episode 1: Pacific Oceanscape
The Pacific Islands are home to 0.1% of the world's people who are stewards for 10% of the ocean. It is vital to their culture, food, livelihoods and national economies. Conservation International works as a trusted adviser and partner of the Pacific Island Forum (PIF) Leaders Pacific Oceanscape, a coalition of 23 Pacific nations and territories with a shared vision of a secure future for Pacific Islanders based on the sustainable development and conservation of the Pacific Ocean.
Niue is a member of the PIF, and like various other Pacific Islands, a leader in ocean conservation having already committed their entire marine domain as a sanctuary to whales, and as a marine managed area with 127,000 square kilometers of their ocean area as a large-scale sanctuary area. They are now in the process of drafting a marine spatial plan to manage this sustainably and consciously. We commend Niue's leadership and look forward to supporting this initiative through science and sharing lessons from other Pacific Oceanscape sites.
Episode 2: Meet the team
Jobs like no other! Meet our international team of specialists, determined to get the scientific data needed to assist Niue's marine planning and protect the whales.
Conservation International's Olive Andrews has worked with the whales in Niue for over 16 years. Her research has contributed to our current understanding of these animals and helped boost value for these species and other cetaceans that traverse these waters. She's helped create Niue's Whale Sanctuary Management plan, their Whale Watching Regulations and provided hands-on training to whale watching operators to support sustainable tourism.
Olive is joined by Jake Levenson, a marine biologist at the US Department of Interior's Bureau of Ocean Energy management where he uses satellite tagging technology to answer questions about where animals go in order to contribute to marine management and spatial planning in relation to marine industries.
Research Assistant Rosie Dodd is a Masters graduate from Cardiff University who studied dolphins and is keen to apply her skills to a Pacific geography responsible for data collection.
Episode 3: Community engagement
In Niue, the largest raised atoll on Earth, livelihoods and culture are connected to nature, as they have always been. Niuean people have a deep connection to marine animals, in particular whales, which are considered 'tapu' or sacred and protected by cultural law.
We carefully respect this relationship, so before we began, we held consultation meetings to ensure that our conservation efforts were understood and agreed upon with not only the government but also with the communities so that they may give their blessing for the research, ask any questions, contribute ideas and share in the survey team's spirit and passion for ocean conservation.
Episode 4: Collecting whale data
Our science helps promote understanding of Endangered humpback whales and other marine mammals that traverse Niue's waters. The more we understand about these creatures, the more we can improve their conservation and management across their range, spanning eight countries and territories.
Niue is concerned about their ocean resources and is focused on creating a marine spatial plan that drives conservation and sustainable use of the entire 316,584 square kilometers exclusive economic zone (EEZ). Collecting data about the whale movements is essential to protect these animals and managing tourism interactions to support Niue's global profile as a pristine eco-tourism destination.
Episode 5: Tagging Niue's whales
We deploy satellite tags called limpet tags on humpback whales to see where they go and how they use their marine space, to better inform their management.
Tagging a whale from a moving boat in large swells is not an easy task even for the most seasoned of scientists. This was a challenge for our specialist Jake Levenson. Did he manage it? Watch and see!
Episode 6: Eavesdropping on the whales
Hear it first here – during a whale tagging attempt, the team must quickly pivot in a powerful moment as they realise the whale is warning them to keep away.
What they discover is that this male is singing his astonishing, long, complex song to communicate to other whales in the area and as a function of attracting a mate. We quickly deploy the hydrophone to record this unique behavior.
Episode 7: Fruit bats and coconut crabs
Ever seen a crab large enough to crack a coconut or a bat the size of a cat, hook itself to someone's chest? Watch our team's first-hand experiences with these fascinating creatures of the Pacific. Peka (fruit bats) and Uga (coconut crabs), are species of conservation concern in Niue. These crabs are the largest lived arthropods on Earth, prized for their meat and cultural value in Niue. The Peka, also known as 'flying foxes' are the only land mammals native to Niue, which are essential to seed dispersal and are also threatened by hunting. Conservation International are providing advice and support for the conservation of these species through future telemetry research efforts in partnership with Niue's Ridge to Reef Program.
Episode 8: Evaluation and the future
Data from this research will contribute to Niue's marine spatial planning and protected area design, benefiting the whales, Niue's people, and other Pacific nations and territories to which these whales travel. Whales are a significant species to Pacific culture and livelihoods. While ecotourism around these species continues to rise, the Oceania population is the slowest recovering humpback whale population globally. Conservation management is essential now more than ever, and science and partnerships are crucial. We commend Niue's leadership and look forward to supporting this into the future.
We thank our partners who supported this work:​
Niue DAFF
Oma​ Tafua
New Zealand Government​
Vaughan Wellington
US Department of Interior, Bureau of Ocean Energy Management
Whaleology
Tofia Niue​